Fused Deposition Modeling (FDM) refers to the additive manufacturing process of using a melted thermoplastic polymer to build up an object in a layer-by-layer path [1]. Out of the various methods for 3D printing, FDM has been the most common technology since it was invented and patented in 1989 by Scott Crump, founder of Stratasys Ltd. [2]. FDM remains one of the fastest and most affordable techniques. Its popularity can be found in a variety of industries, including aerospace, automotive, consumer goods, and healthcare, as companies use FDM for their prototypes, product development and sampling, and manufacturing process [3].
The most common filament materials used in FDM are:
In this article, you will learn about:
What fused deposition modeling is

What filaments are used for fused deposition modeling

What the advantages and limitations of these filaments are

How the market for fused deposition modeling filaments is growing

What would some future applications of FDM be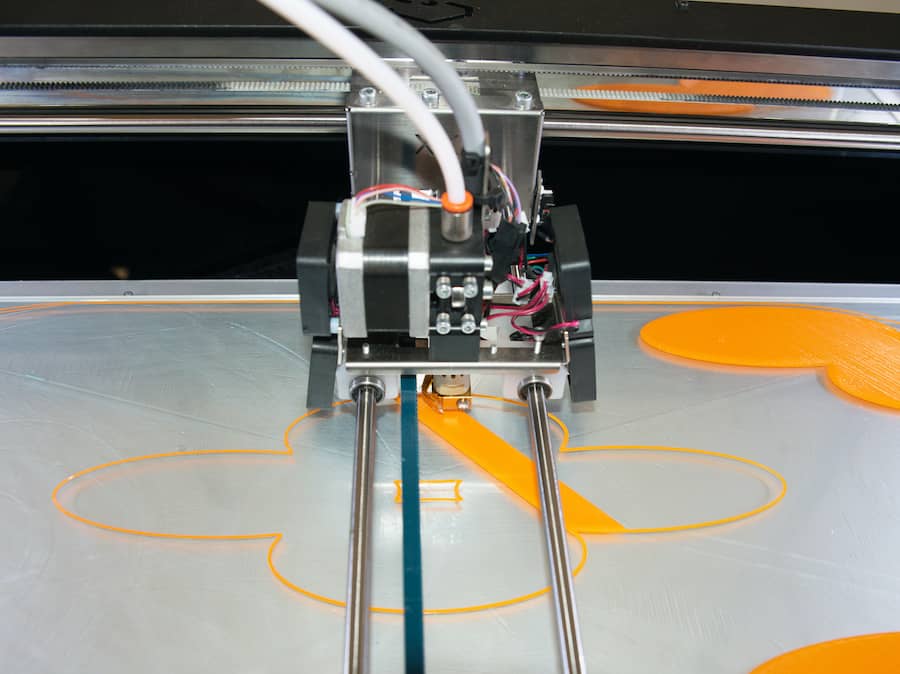 What is fused deposition modeling?
FDM is an additive manufacturing process in which the melt extrusion method is used to place filaments of thermoplastic and polyacid materials following a certain pattern to produce a three dimensional (3D) physical model [1]. This process uses polymers as raw material (or filaments). Filaments are heated to a melted state and then extruded by the nozzle of a 3D machine or printer to deposit an object by superimposing layers [4]. The nozzle is controlled by computer-aided manufacturing (CAM) software, and it can move in both horizontal and vertical directions. FDM is also known as fused filament fabrication (FFF).
What filaments are used for fused deposition modeling?
During the past three decades of research, scientists and engineers have presented a vast selection of materials to use as filaments for FDM. All materials offer both advantages and challenges for the user selection, as well as diverse levels of advancement in technology, hardware requirements, and best practices to succeed in the material selection of a specific project. Here is a brief description of some of the most common FDM filaments available on the market.
Polylactic acid (PLA)
PLA is a biodegradable thermoplastic polyester made from naturally renewable sources, such as corn, sugarcane, wheat, or other high-carbohydrate sources. PLA is, at present, the most adopted material in 3D printing. Due to its eco-friendly features, it is well suited for food packaging applications and for surgical and medical applications [4][5].
Check out the different PLA materials currently listed on Matmatch.
Table 1. Advantages and limitations of PLA.
| | |
| --- | --- |
| Advantages | Limitations |
| Can be extruded by low-energy and cost-effective 3D printers | High brittleness |
| Biodegradable | Low toughness and durability |
| Requires lower printing temperature and low shrinkage | Low service temperature |
| Available in the market in a variety of colours and textures | Cause for nozzle clogging |
| Non-toxicity | |
To overcome the limitations, researchers, over the last two decades, have investigated and blended PLA with other polymers, such as blends of poly L-lactide (PLLA) and poly D-lactide (PDLA) [5]. Blending PLLA and PDLA resulted in the formation of poly(lactide) stereocomplex crystallites (SC) [6]. The stronger interactions in SCs induced higher melting temperatures and increase crystallization speed; thus, improving the thermo-mechanical properties [6][7]. The result of these blends lead to the development of hot-fill packaging and microwave applications.
Acrylonitrile butadiene styrene (ABS)
ABS is a thermoplastic polymer produced by the fusion of styrene and acrylonitrile in the presence of polybutadiene [7]. It is the second most common material used for FDM filaments after PLA.
ABS is a suitable option for parts that need to resist cyclic loading and temperature changes [9]. Some typical applications of ABS filaments in 3D printing are surgical models, prototypes, toys, and kitchen appliances. ABS's good mechanical characteristics that allow it to hold up for extensive usage and wear have made it an excellent choice for products like the LEGO building blocks.
Check out the different ABS materials currently listed on Matmatch.
Table 2. Advantages and limitations of ABS.
Advantages

Limitations

High impact resistance

Warping, curling, and cracking during printing

Good abrasion and strain resistance

Produces toxic gases

Good chemical resistance

Can be damaged by sunlight

Resistant to temperatures

Long service life

Good electrical insulating properties

Surface aspect and brightness offering a gloss feature
Polyethylene terephthalate (PET)
PET is a petroleum derivative thermoplastic from the polyester family. PET's Glycol modified version, PETG, is among the most employed materials for FDM alongside PLA and ABS. Designers and engineers are taking advantage of its unique properties, such as transparency, moisture resistance, and chemical resistance, to create attractive applications for liquid containers, food storage, graphic displays, prototypes, and textiles [10].
Check out the different PET materials currently listed on Matmatch.
Table 3. Advantages and limitations of PET.
Advantages

Limitations

High chemical resistance

Possible curling during printing

Moisture resistance

Limited mechanical resistance, not suitable for structural applications

Good durability

Its relatively soft surface makes it prone to wear

Glossy and smooth surface finish

Minimal warping effect
Thermoplastic polyurethane (TPU)
TPU is a very flexible, abrasion-resistant, and versatile thermoplastic that is used in diverse industrial applications. Due to its ability to stretch and bend, it can be considered as a bridge between rigid plastic and elastic rubber [11]. It is commonly used in automobile applications, sporting goods, power tools, and film and sheet applications.
Check out the different TPU materials currently listed on Matmatch.
Table 4. Advantages and limitations of TPU.
| | |
| --- | --- |
| Advantages | Limitations |
| Very high flexibility and elasticity to create complex elastic designs or specific shapes | Relatively high difficulty during the printing process due to its flexibility |
| High durability and strength | |
| High resistance to abrasion | |
Poly-ether-ketone (PEEK)
PEEK is a high-performance, semi-crystalline, thermoplastic polymer, and a member of the Poly-aryl-ether-ketone (PAEK) family. This material has a special combination of engineering properties that makes it ideal for metal (aluminium or steel) replacement applications, particularly in the aerospace, automobile, and healthcare industries. Good examples of applications are metal implants and the manufacturing of out-of-earth replacement parts, such as those used in the International Space Station (ISS) [12][13][14].
Check out the different PEEK materials currently listed on Matmatch.
Table 5. Advantages and limitations of PEEK.
| | |
| --- | --- |
| Advantages | Limitations |
| Chemical and biological stability | Poor resistance to UV radiation |
| Superior thermal resistance | Difficult to process due to its semi-crystalline structure |
| High mechanical performance | Requires high levels of expertise to limit printing issues |
| Can be sterilised (ideal for surgical and dental applications) | Limited equipment suitable to process |
Polyphenylsulfone (PPSU)
PPSU is a high-temperature sulfone polymer. PPSU's high performance allows it to be used in applications for healthcare, smart devices, energy storage, and aerospace [14].
Check out the different PPSU materials currently listed on Matmatch.
Table 6. Advantages and limitations of PPSU.
| | |
| --- | --- |
| Advantages | Limitations |
| Excellent thermal, chemical, and impact resistance | Requires high levels of expertise to limit printing issues |
| High gamma-radiation resistance and flame resistance | |
| Sterilization capability | |
| High strength and high modulus, even at high temperatures | |
Other FDM filaments
Several additional filaments available for FDM are listed below [15].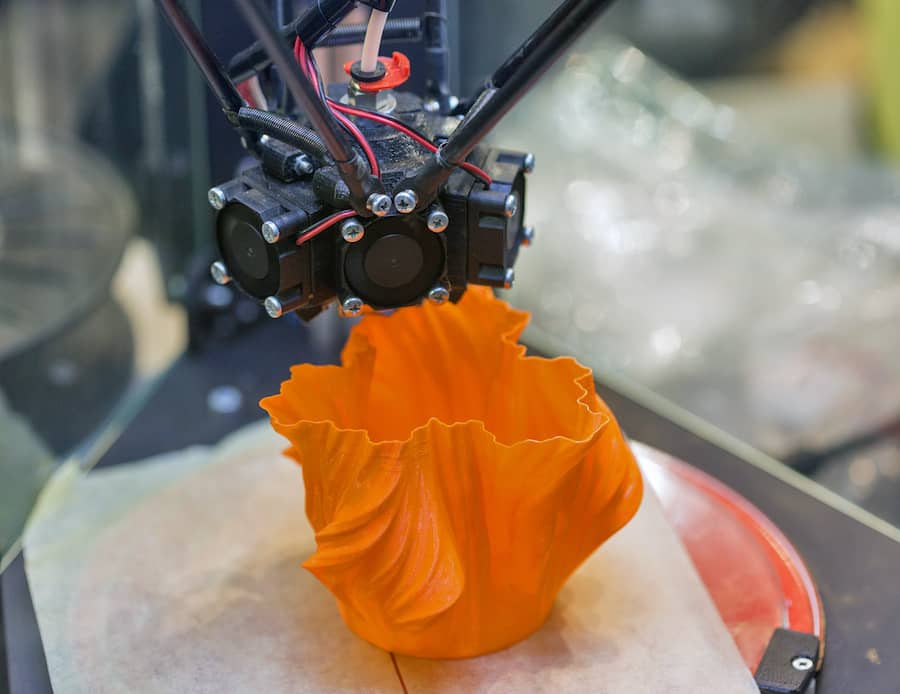 The market for FDM filaments
The market for 3D-printing filaments was set at USD 1.41 Billion in 2018, and its potential to grow is forecasted to reach USD 9.47 Billion by 2026. This accelerated growth is projected to be led by the manufacturers who have been developing technologies for multi-property filaments to use for prototyping, product design, product sampling, modeling, and manufacturing processes.
Applications for healthcare, aerospace, and defence are expected to grow at the highest rates close to 27%. North America is the region that accounts for the largest share, but, in general, all other regions are expected to play important roles in the growing demands from their end-users [16].
Future applications
We are living in an era of a major technology revolution in manufacturing. 3D printing is already used at unprecedented scales, and the market for FDM applications is growing and evolving at incredible rates. Diverse areas would require further innovation and research to include the capability of cost-effective printing or large volumes, the capacity to print multiple materials from the same equipment, and the expansion of the range of filaments with unique and powerful properties [17]. The next generation of FDM applications would most likely be seen in:
The medical industry with bioprinting, prosthetics, and drug applications

The automotive industry with various components and parts

Prototyping for the aerospace industry

A variety of applications in consumer electronics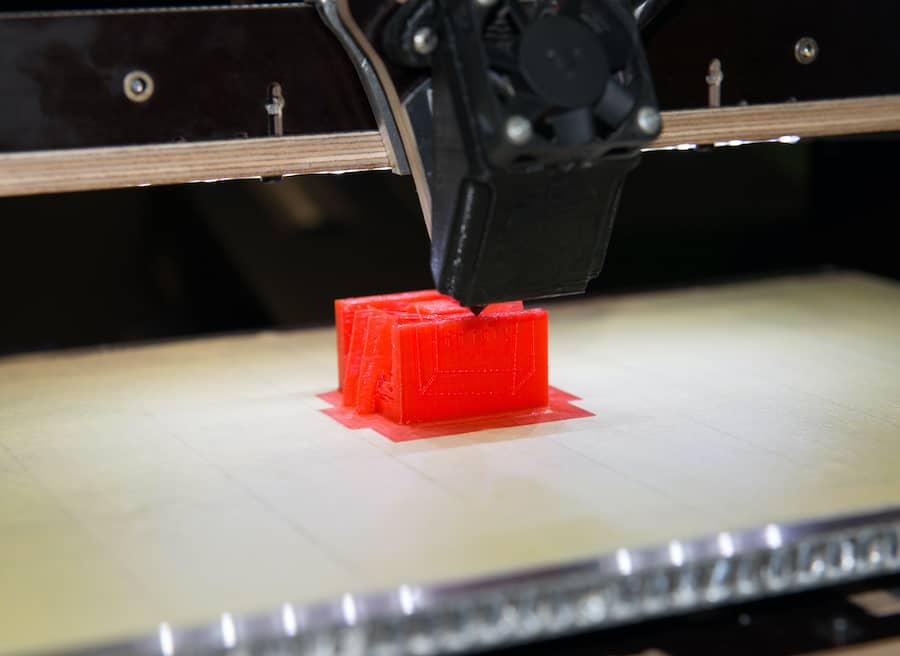 [1] Walker, J.L. and Santoro, M., Processing and Production of Bioresorbable Polymer Scaffolds for tissue Engineering, In Bioresorbable Polymer for Biomedical Applications, 2017, [Online] Available: https://www.sciencedirect.com/topics/materials-science/fused-deposition-modeling
[2] Pei, E., 2019, Progress in Additive Manufacturing, Editorial PIAM October 2019, 4, 355-356, Springer, [Online] Available: https://link.springer.com/article/10.1007/s40964-019-00103-8
[3] Palermo E., 2013, Fused Deposition Modeling: Most Common 3D Printing Method, LiveScience, [Online] Available: https://www.livescience.com/39810-fused-deposition-modeling.html
[4] Madaraka Mwema F., Titilayo Akilabi, E., 2020, Fused Deposition Modeling: Strategies for Quality Enhancement, Springer Briefs in Applied Sciences and Technology, Manufacturing and Surface Engineering, Springer Nature, 2020
[5] Nofar M., Sacligil D., Carreau P.J., Kamal M.R., Heuzey M-C, 2019, Poly (lactic acid) blends: Processing, properties and applications, International Journal of Biological Macromolecules, Volume 125, Pages 307-360
[6] Lih-sheng Turng, 2021, Improvement in Mechanical Properties and Heat Resistance of PLLA-b-PEG-b-PLLA by Melt Blending with PDLA-b-PEG-b-PDLA for Potential Use as High-Performance Bioplastics, Advances in Polymer Technologies, Volume 2019, Available: https://www.hindawi.com/journals/apt/2019/8690650/ (accessed February 1, 2021)
[7] Polyscience, Inc. 2021, Poly(lactic acid) (PLA, PDLA, PLLA), [Online], Available: https://www.polysciences.com/default/catalog-products/polymers/biodegradable-polymers/poly-dl-lactic-acid
[8] Rodríguez-Panes A., Claver J., Camacho A.M., 2018, The Influence of Manufacturing Parameters on the Mechanical Behavior of PLA and ABS Pieces Manufactured by FDM: A Comparative Analysis, Materials (Basel) 2018 Aug; 11(8): 1333. Published online 2018 Aug, Available: https://www.ncbi.nlm.nih.gov/pmc/articles/PMC6119930/
[9] Singh S., Prakash, C., and Singh R., 2020, 3D Printing in Biomedical Engineering, Materials Horizons: From Nature to Nanomaterials, Springer Nature, 336p
[10] Hohimer C., Christ J., Aliheidari N., Mo C., and Ameli A., 2017, 3D Printing Thermoplastic Polyurethane with Isotropic Material Properties, Behavior and Mechanics of Multifunctional Materials and Composites, 2017, Ed. Goulbourne
[11] Zanjanijam, A.R., Major, I., Lyons, J.G., Lafont, U., and Devine, D.M., 2020, Fused Filament Fabrication of PEEK: A Review of Process-Structure-Property, Polymers (Basel), 12(8): 1665
[12] Garcia-Leiner M., Ghita O., and Mckay R., 2019, Additive Manufacturing of Polyaryletherketones, PEEK Biomaterials Handbook, Elsevier, Inc. Available: https://www.google.com/books/edition/PEEK_Biomaterials_Handbook/SimLDwAAQBAJ?hl=en&gbpv=1&dq=PEEK+filament&pg=PA95&printsec=frontcover120
[13] Solvay, Additive Manufacturing Filament, Processing Guide, Specialty Polymers, Available: https://www.solvay.com/sites/g/files/srpend221/files/tridion/documents/180424-Solvay-launches-AM-ready-filaments-and-e-commerce-site-EN.pdf.pdf
[14] Soloman S., 2018, 3D Printing and Design, Khanna Publishing House, India. Available https://www.google.com/books/edition/3D_Printing_Design/6XQDEAAAQBAJ?hl=en&gbpv=1&dq=petg+filament+properties&pg=PA202&printsec=frontcover
[15] Reports And Data, GlobeNewswire, 3D Printing Filament Market To Reach USD 9.47 Billion By 2026, August 20, 2019, [Online] Available: https://www.globenewswire.com/news-release/2019/08/20/1904252/0/en/3D-Printing-Filament-Market-To-Reach-USD-9-47-Billion-By-2026-Reports-And-Data.html
[16] Bar-Cohen, Y., 2018, Advances in Manufacturing and Processing of Materials and Structures (Biometrics), 1st Edition, CRC Press, October 2018