Steel is a surprisingly sustainable material. Not only can innovative products be manufactured out of steel, but steel is one of the few materials that can be recycled up to 100%. This means that fewer primary raw materials are used and resources are saved. The use of steel is therefore particularly suitable for green technologies and sustainable products, for the protection of our environment.
The Electric Arc Furnace
Steel is mainly produced via two routes, the blast furnace route and the electric arc furnace route.
For the production of Green Steel, the electric arc furnace is regarded as a pioneer in terms of CO2 emissions, as this process emits the lowest CO2 emissions. Compared to the blast furnace route, the electric arc furnace is more flexible, specialized and environmentally friendly. Electric arc furnaces can be started up or shut down depending on capacity utilization.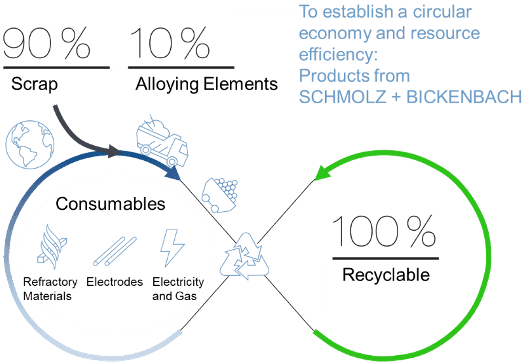 The CO2 emissions of crude steel production by electric arc furnace are significantly lower than those of the "classic" blast furnace route. In 2018, global steel production emitted an average of 1,850 kg CO2 per ton of crude steel. In the same period, the CO2 emission for one ton of crude steel at Deutsche Edelstahlwerke (DEW), for example, was 429 kg - this value is based on the average production of all DEW materials. This means that production at DEW was already 77% below the average in 2018.
Green Steel
Green Steel is pushing the use of green electricity to further reduce the CO2 emissions for the production of all steel solutions made by DEW. The use of 100% green electricity in DEW's steel production reduces CO2 emissions to 107 kg per ton of crude steel. Compared to global crude steel production and the already low 429 kg at DEW, this represents a reduction of 94%.
In simple terms: The CO2 emission of one ton Green Steel from DEW is equivalent to a car journey of approximately 750 km.
However, the production of Green Steel starts with the right scrap material. Close customer cooperation - e.g. scrap can be returned directly from the customer into the scrap cycle - and individual scrap concepts are essential for this. Since steel can be recycled up to 100%, corresponding concepts make a significant contribution to global resource-saving. For example, DEW, together with its raw materials company dhi, is constantly reviewing its concept. It is based on an intensive exchange between the steelworks and the raw materials company with the aim to optimizing the use of scrap in the steelworks. More than 100 scrap groups lead to a resource-saving feeding of alloying elements into the steel smelts. Further improvements have been achieved by fragmentation and "cleanliness" of the scrap: The energy consumption in the steelworks was reduced by both parameters.
A Germany-wide scrap collection system is used to collect steel products that are no longer usable, thus avoiding long transportation distances. This also contributes to the reduction of CO2 emissions during the transport of raw materials. In this way, one piece of the puzzle fits into another to permanently reduce emissions.
Want to learn how you can incorporate green steel into your projects? Contact Deutsche Edelstahlwerke today.