About AMPCO METAL
AMPCO METAL, headquartered in Switzerland, is a leading international manufacturer and integrated distributor of specialty copper alloys and engineered products.
The company was founded in 1914 in the USA, as an innovator in the introduction and application of aluminium bronze alloys.
It has also introduced to the market several new metallurgical and process techniques that have made AMPCO METAL the recognized quality leader in specialty bronzes and copper alloys.
Over the years, AMPCO METAL has served customers throughout the world in a variety of applications seeking wear, corrosion-resistant and high conductive properties.
Major industries served include: chemical and petroleum, machine tool, primary metal producers, transportation and a wide range of industrial and commercial machinery.
To obtain unique and consistent alloy characteristics, AMPCO METAL utilizes some of the most advanced equipments in the industry, a highly skilled engineering staff and sophisticated quality control procedures.
This allows AMPCO METAL to offer superior lot-to-lot consistency for predictable results.Conscious of the environment, AMPCO METAL utilizes advanced technology throughout its plants and service centers to rigidly maintain clean air and water programs.
AMPCO METAL manufactures a wide range of alloys in a variety of grades and conditions and distributes them through its worldwide network of service centers. This enables AMPCO METAL to work closely with its customers to produce specialty alloys with the properties and characteristics they need.
A century of engineered excellence
Since 1914, AMPCO METAL has worked with industry partners across the Aerospace, Automotive, Steel & Titanium industries, as well as Marine, Oil, Gas & Chemical, along with and a host of others., across a range of applications, including friction & wear, corrosion resistance and heat & electrical conductivity. This unparalleled experience, combined with our technical expertise and engineered alloy excellence mean we're able to be a global partner in creating metal solutions for our customers.
Superior Casting
Introducing MICROCAST®, our patented high-performance aluminium bronze and specialty copper alloy production technology that delivers the most uniform grain size with the most outstanding wear resistance.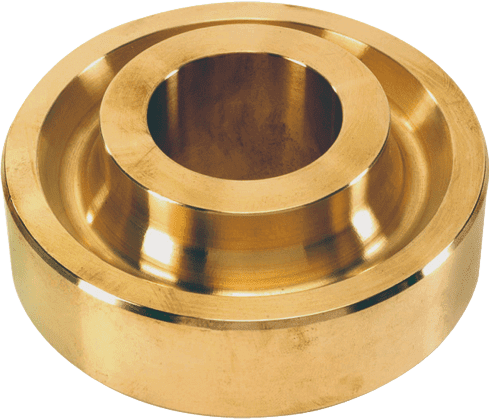 AMPCO®Aluminium Bronze
A highly polishable, high-strength and better alternative to brass with better grain.
Higher mechanical properties without lead and cleaner trace elements.
High wear characteristics and corrosion resistance.
Best movement material for sliding, motion and typical wear parts with friction problems.
Recommended for how to solve cavitation problems, galling, tooth flank damage, avoiding nickel contamination and surface problems on stainless steel.
Aluminium bronzes are part of a copper alloys family containing aluminum as their principal alloying element. The properties of these alloys are governed by the properties of copper and aluminium when melted and casted together in rigorous and well-controlled processes.
Aluminium is soluble in copper up to about 8 wt%. This solution is characterized by a homogeneous single alpha phase which displays high ductility and excellent corrosion resistance by forming a protective skin of aluminum oxide on the surface. When increasing the aluminium content, a second phase forms in the microstructure known as the beta phase. These alloys are harder than a single alpha phase, with higher strength and higher mechanical properties.
Other alloying elements can be used like nickel to further improve the resistance to corrosion and mechanical properties. These alloys are used in highly-loaded construction parts that can be exposed to aggressive corrosion environments.
AMPCO METAL was a pioneer in developing aluminium bronze alloys and continues to engineer premium products for critical applications with its well-known AMPCO® product line to this day. Our high-quality, high property and uniquely hard metal range is trusted the world over for its broad use. AMPCO® Aluminium Bronze even extends to food-approved applications through alloys such as AMPCO® 8, AMPCO® 18 and AMPCO® M4.
AMPCOLOY®High Copper Alloy
A polished hard version copper alloy without coating or lead and clean trace elements
Best material for injection moulding and welding, with the highest thermal conductivity for mould problems.
An alternative to Wolfram cathodes for cathode welding material.
Increases productivity of plastic injection while decreasing their cycle times.
Also used when food approval is required.
AMPCOLOY® High Copper alloys are engineered with exceptional conductivity, high strength and unique wear characteristics, delivering higher lifetime, quality and performance, with cleaner trace elements. Copper has a face-centered cubic lattice, allowing it to have good cold working properties in addition to high electrical and thermal conductivity. With the addition of carefully selected alloying elements in well-defined proportion, high copper alloys develop the necessary strength and hardness properties with little decrease in electrical conductivity. These material are used in critical applications where both conductivity and mechanical properties are required.
With over a century of expertise, AMPCO METAL and its AMPCOLOY® product line are synonymous with premium quality for critical applications.
AMS Alloys
Technically specific AMS bronze is used for parts and landing gear.
Sometimes referred to as aerospace bronze.
AMS alloys are the results of carefully selected alloying elements, well-documented manufacturing processes and specific heat treatment parameters, achieving quality and performances that critical applications like the aerospace industry require.
Standard Alloys
Offers high flexibility in value, size, and shape.
Standard Alloys continue the AMPCO tradition of excellence in engineered alloys, offering a premium product that can offer performance for demanding applications.
Other Alloys
Often considered as an alternative to aluminum bronze.
Our high-strength, durable AMPCO® Alloy range and bearing material, recognized for its unparalleled ability to perform under temperature. It's created through a patented manufacturing process that gives it greater corrosion-resistant properties for a number of specific applications.