Many applications in the field of tooling require simultaneous resistance to corrosion and wear. Such demands can be met by a martensitic matrix with embedded carbides if they are harder than the acting abrasive particles and of similar size. A further gain in wear resistance can be achieved by the addition of hard phases into the metal matrix to produce a metal matrix composite (MMC). Ferro-Titanit materials from Deutsche Edelstahlwerke belongs to the group of MMCs.
The key for successful pelletizing
As a good example, the machines used for underwater pelletizing needs a simultaneous resistance to corrosion and wear. Coming from an extruder unit the melt flow is directed through boreholes of the so-called die plate. After leaving the boreholes the plastic is cut off by rotating knives which are pressed against the die plate. Afterwards, the pellets will be cooled within the water, discharged, collected and dried. Finally, these pellets are used in die casting machines to produce components made out of plastic.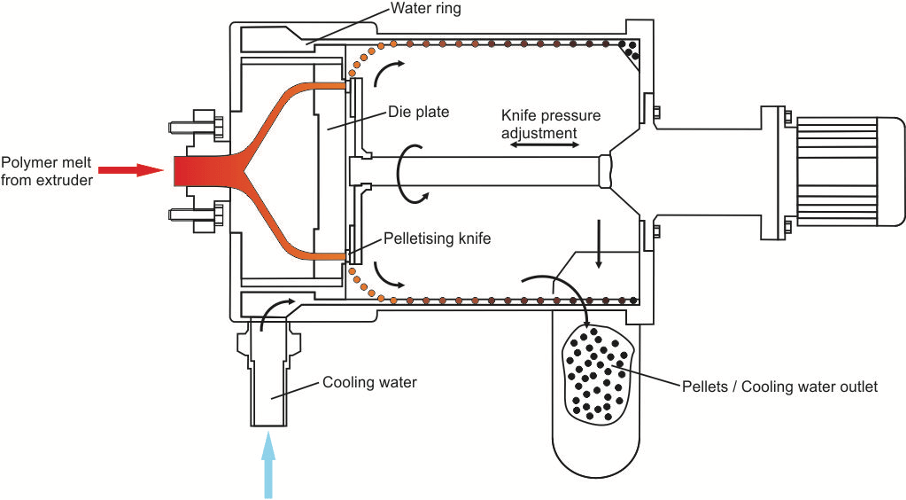 Figure 1: Pelletizing Unit
The die plate is the heart of the pelletizing machine and has to fulfil three important properties:
Corrosion resistance → lifetime
Wear resistance → lifetime
Thermal conductivity → as low as possible to ensure a high-quality cutting of the pellets and to reduce energy-losses

The new developed and patented material Nikrodur fulfils all of the mentioned requirements and is, therefore, the ideal choice. Based on several tests, Nikrodur shows its strengths in wear resistance, corrosion resistance and thermal conductivity.

All advantages of Nikrodur at a glance
Longer lifetime of the die plate together with improved pellet quality
Increased wear resistance up to 50%
Increased corrosion resistance up to 35%
Reduced thermal conductivity of 20%

Browse all Ferro-Titanit materials from Deutsche Edelstahlwerke here.