The friction and wear behaviour of contacting materials vary greatly depending on the application in which they are used. Whether it is the applied load, sliding velocity, or change in contacting surfaces, such influences may have a significant impact on the wear performance of a material. This raises the need for solutions that can inherently minimise friction and resist external influences, thus reducing the required driving force and maintenance.
Low-friction plastics are self-lubricating materials with outstanding slide properties, resulting in perfect gliding performance. Here is how such materials stand to be vital solutions in demanding application areas, such as conveyor systems, bearings, and industrial machinery.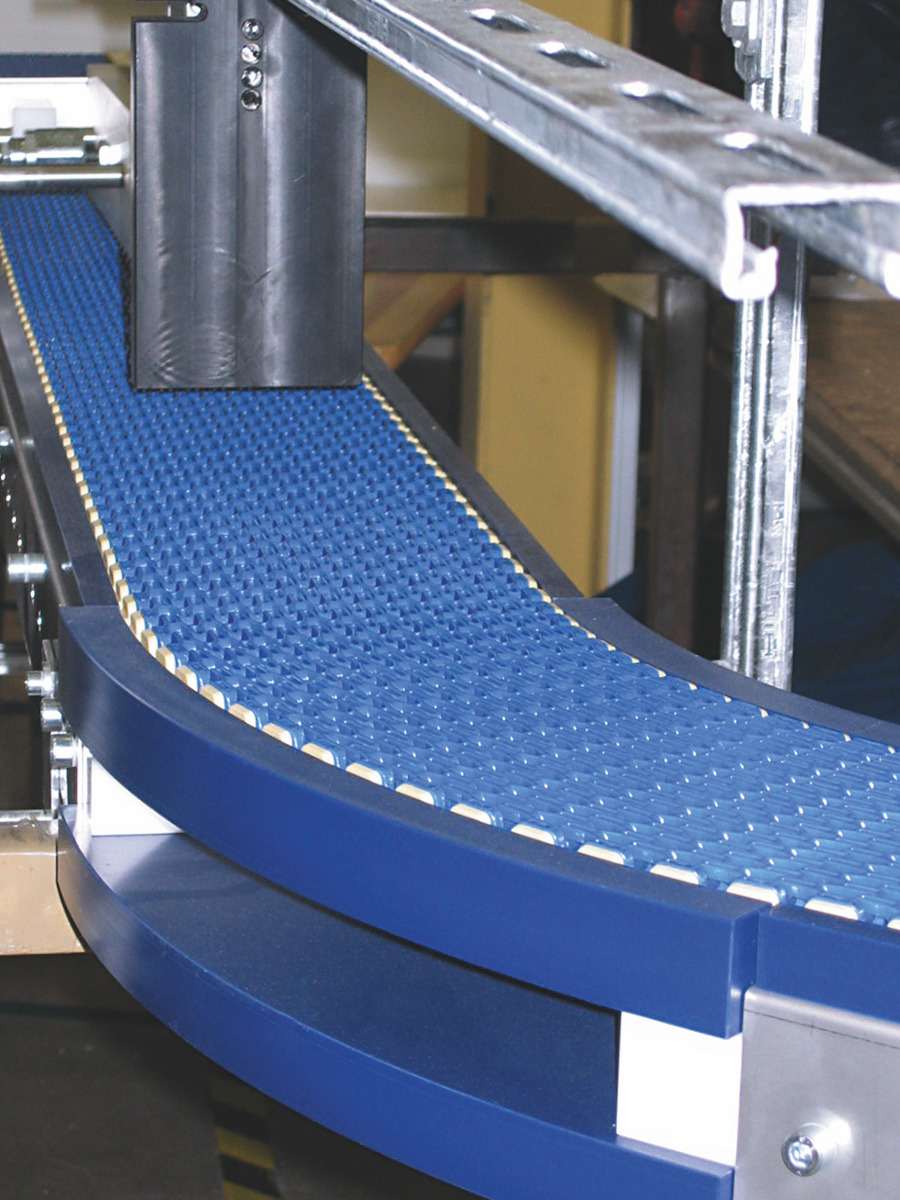 Many industries and application areas require materials with good slide properties that can withstand high loads and continuous contact. Conveying systems, for instance, undergo a wide range of loads under varying conditions, which can highly affect the friction behaviour of the materials. Bearings, rollers, gears, and other automotive parts also demand suitable slide properties and particular mechanical properties, such as high impact resistance.
And the list goes on. Any application area with moving parts would require either sufficient lubrication that can minimise wear and friction or materials with sufficiently good friction properties to maintain their performance and withstand the external influences.
Self-lubricating plastics intrinsically have very low coefficients of friction. With their good anti-adhesion properties, they enable the contacting parts to move smoothly and continuously without falling under the stick-slip effect. With that in mind, Murdotec Kunststoffe has developed a low-friction plastic material as a solution for many operational issues, allowing for perfect gliding optimisation.
Introducing Murdotec® 2000 MC: a self-lubricating plastic
Murdotec® 2000 MC is an ultra-high-molecular-weight polyethylene (UHMWPE) from Murdotec Kunststoffe. UHMWPEs are a family of thermoplastics with high fracture toughness, low friction coefficient, and high resistance to wear and abrasion. They have remarkable tribological characteristics and excellent impact resistance, even at extremely low temperatures, putting them ahead of stainless steel. They are also chemically inert, water-resistant, and good insulators of heat and electricity.
These characteristics have made UHMWPEs suitable materials for a huge variety of applications, particularly those requiring low friction, high durability, and good chemical resistance. Being a self-lubricating material, Murdotec® 2000 MC has found its way into applications as demanding as the displacement and construction of a 60-ton steel bridge.
Murdotec® 2000 MC's supportive gliding role: a use case
In the town of Erkner, Germany, the railway has been a significant element for a long time. A double-tracked railway bridge crosses the Flakenkanal, a river that passes through the town connecting the two lakes, Flakensee and Dämeritzsee. However, this old timber-framed bridge has suffered from deterioration, and its restoration has been deemed costly.
So, a decision was made to replace it with a new steel-framed bridge. In order to do so, the steel framework had to be transported from the riverbank where it was resting onto a pontoon until it reached its provisional support point on the other side of the river. A hydraulic cylinder pushed forth the framework from the edge of the bank onto the pontoon.
So as to facilitate the displacement of the 60-ton-weighing steel framework, Murdotec® 2000 MC came into play. With its anti-adhesion and self-lubricating properties, Murdotec® 2000 MC played the role of a supportive gliding material, minimising friction and allowing the framework to slide much more easily onto the pontoon.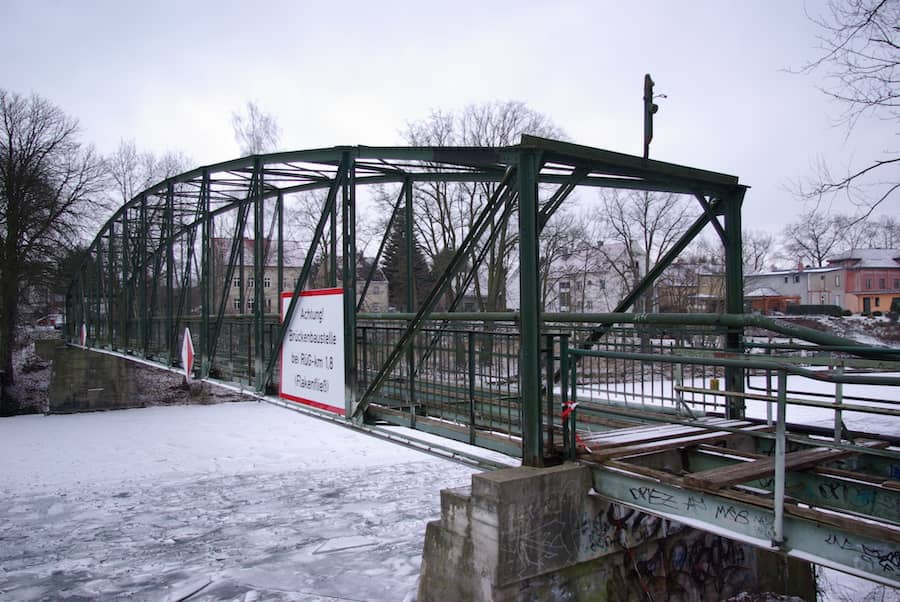 The steel truss bridge in Erkner, Brandenburg at the time of construction (Clemensfranz, Wikimedia Commons, CC License).
The table below shows key properties and characteristics of Murdotec® 2000 MC that have allowed it to be the material of choice for such an application.
Murdotec® 2000 MC (UHMWPE)

Key characteristics

Self-lubricating

Good anti-adhesion properties

Very high shock and impact resistance

Good machinability

No stick-slip effect

Electrically isolating

General properties

Coefficient of friction

0.1

Density at 23.0 °C

0.94 g/cm3

Moisture absorption at 23.0 °C

0 %

Mechanical properties

Elastic modulus at 23.0 °C

0.7 GPa

Elongation at 23.0 °C

250 %

Impact strength, Charpy notched at 23.0 °C

120 kJ/m2

Thermal properties

Coefficient of thermal expansion at 23.0 °C

2 x 10-4 1/K

Melting point

130 - 135 °C

Service temperature range

-200 °C - 90 °C

Electrical properties

Dielectric strength at 23.0 °C

45 kV/mm

Surface resistivity at 23.0 °C

1 x 1012 Ω/sq

Volume resistivity at 23.0 °C

1 x 1012 Ω/cm
Application areas of UHMWPE - Murdotec® 2000 MC
All these properties mentioned above have enabled this UHMWPE material to find its way into many application areas in different industries, including:
Slide bars and storage equipment for the food sector in diaries and breweries

Guides for PET bottle conveyors

Sliding rails, profiles, and segments

Gaskets, link belts, crane support plates, and bearing bushes

Control discs, deflection pulleys, and wear bars
Murdotec® 2000 MC is a material with perfect gliding optimisation. Its sliding properties significantly reduce the required driving force and energy while maintaining a higher slide speed. Consequently, this brings about a lower need for maintenance and higher productivity. All this is the result of Murdotec Kunststoffe's years of experience in developing and producing high-quality materials.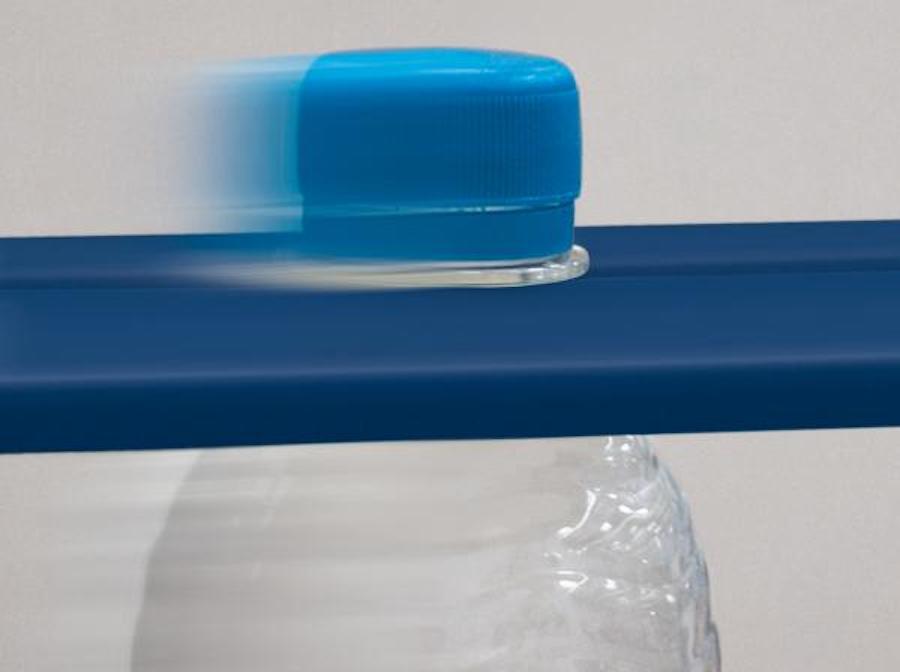 Murdotec Kunststoffe is a trusted supplier and manufacturer of technical thermoplastics based on polyethylene (PE). They enhance the quality of their PE materials, particularly HMWPE and UHMWPE, via sophisticated recipes that help boost the material properties. Based in Germany, they provide their customers with semi-finished products and advise them on how to best use those products.
Today, Murdotec Kunststoffe have partnered with Matmatch to bring their materials and services one step closer to engineers and product developers searching for high-quality polyethylenes with distinct properties, such as self-lubrication. Their materials are available in sheet and rod forms and have the required quality, safety, and sustainability certifications (ISO 9001:2015, ISO 50001, ISO 14001:2015).