Pneumatic conveying systems have always proven their flexibility and capability of transporting materials, bulk or small, especially around stationary objects. As a controllable, enclosed system that can run over lengthy distances, a pneumatic conveyor is a valuable space- and cost-efficient equipment. Yet, its effectiveness relies mainly upon the materials that constitute the conveyor itself, such as stainless steel, aluminium, or the more reliable glass tubing. How do pneumatic conveying systems work, and how does glass tubing maximise their efficiency?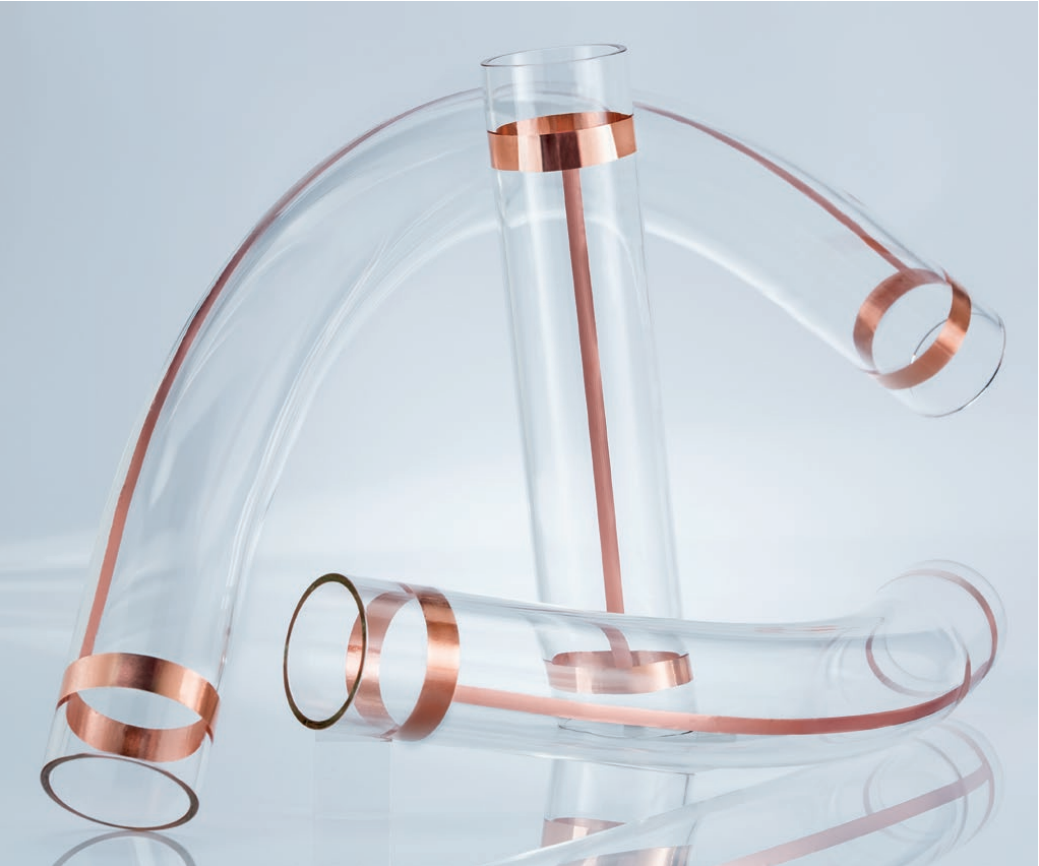 Figure 1. Glass tubing bends for pneumatic conveying pipes. (SCHOTT DURAN® tubing)
It is said that the first pneumatic conveyor systems were built in the mid-1800s as a means to discharge grains from ships. With time, this technology began making its way into other areas of application, especially engineering fields. Today, pneumatic conveying systems can be seen in a diverse number of industries, including food, pharmaceutical, and chemical industries.
Compared to other conveying processes, pneumatic conveying is a highly cost-effective process to carry and transport different materials straightforwardly and with minimal loss. By definition, a pneumatic conveying system is an enclosed pipeline set to transfer dry bulk or powder materials by means of pressure differential and gas flow. Its most significant advantage is its flexibility in pipeline routing, which enables it to be set within smaller spaces by using bends and turns, especially around fixed equipment that might be in the way.
How pneumatic conveying systems work
Pneumatic conveying systems can be divided into four separate components, the prime mover, the conveying pipes, the feed, and the disengagement.
A prime mover is, basically, the part that induces the stream of gas – usually air. This can be either a fan, a compressor, a blower, or a vacuum pump. By controlling the prime mover, an engineer can define the gas flow rate and positive/negative pressures needed to initiate and maintain the conveying process.
The conveying piping is a crucial part of the pneumatic conveying system because it is what the materials are transported in. Pipe dimensions, design, and material are all critical factors that play a big role in defining the conveying rates and the pertinence to the conveyed materials.
The feed is the dry, solid materials introduced into the stream via pumps, blow vessels, or valves. It is essential that the feed is accelerated to the conveying speed, resulting in a significant pressure drop.
Disengagement is where the solids are discharged from the stream via fabric filters or cyclones to be collected in a container. The gas stream, on the other hand, is ejected or recycled.
So, pneumatic conveying is achieved through transferring the solids within the enclosed environment of the piping by controlling a pressure difference between two points and a stream of air supplied by the prime mover. Such a conveying process helps minimise the risk of damage or loss of material.
Figure 2. The material used in conveying pipes is critical, and glass tubing has shown great potential in this area. (SCHOTT DURAN® tubing)
The material of choice for pneumatic conveying piping
When setting up a pneumatic conveying system, pipe design stands out as one of the fundamental aspects to be determined. Since the conveying line constitutes the confined environment within which the conveying process takes place, the design of this environment is critical for maximising the conveying efficiency.
Pipe dimensions, such as diameter and length, are very important in determining the gas flow rate, possible product degradation, and power consumption. For instance, the industry's best practices have shown that in order to prevent possible pipe blockage, a pipe's inner diameter should be designed to be no less than three times the size of the biggest conveyed material.
Similarly, material selection for the conveying pipes is elemental to constructing functional and reliable systems. This entails, however, the examination of multiple factors that affect the design, such as the size, abrasiveness, and reactivity of the conveyed material, the pressure levels inside the pipes, the operating temperature, and the total cost. Common materials that make up the conveying pipes include stainless steel, galvanised steel, and aluminium. However, such materials do have many drawbacks that can affect the efficiency of the system. Stainless steel, for example, could subject the conveyed objects to contamination due to abrasion and erosion affecting the steel material. Certain treatments could help minimise corrosion when applied; yet, one alternative material seems to show great potential in such an application, and that is glass.
Glass tubing is a proven material in its durability, reliability, and robustness in applications like pneumatic conveying. Its high resistance to corrosion and abrasion enables it to be a material of choice, especially for the conveying of extremely abrasive materials. As a result, glass tubing can remain functional and reliable for ten times the service lifespan of stainless steel. In addition to that, glass's optical transparency allows for improved management of the conveyed substances.
DURAN® tubing by SCHOTT, for example, is a high-quality borosilicate glass tubing material that exhibits exceptional properties allowing it to be suitable for pneumatic conveying. High-precision glass bends made from DURAN® tubing are robust, durable, and clean products that can provide a great cost/benefit ratio and help enhance the process efficiency significantly. SCHOTT offers these glass bends in an array of dimensions and with bend angles of 45° and 90°. They also come with a copper conductive tape to ensure consistent protection against electrostatic charges. Glass is a properly convenient material for industries like the food industry, thanks to its particularly suitable food-grade properties and its significantly minimal abrasion.
Sourcing glass material for pneumatic conveying systems
Finding the right material is as essential as designing the system itself. Since pneumatic conveying systems have demanding requirements from their materials, engineers and product developers have to be able to find and compare materials very precisely. Fortunately, material suppliers, such as SCHOTT, have made this step quite easy.
SCHOTT is a leading global manufacturer of glass tubes, rods, and profiles. With over 60 different high-quality glass types produced in a wide range of dimensions, including soda-lime silicate and borosilicate glass, SCHOTT has facilitated the process of material selection for engineers. And they have listed their materials here on Matmatch to allow users to find and reach out to them easily.
Visit the SCHOTT Tubing supplier page for more information on their materials and to get in direct contact with them.
Figure 3. DURAN® tubing from SCHOTT.