This article describes a new alloy produced in strip form, suitable for tin-plated connectors. This new alloy provides superior electrical conductivity and thermal stress relaxation resistance at a lower metal cost in comparison to standard Sn-Bronze such as CuSn4/CuSn5/CuSn6. The alloy contains no hazardous elements. As such, It is positioned as a higher-performing, low-cost, however green alternative to today's CuSn-based commodity alloys.
Target Markets
Development idea of a green, low-cost, fine grain solid solution alloy able to replace an Sn-Bronze, mainly for Connectors.
The motivation of our poster/paper was to create a potential replacement for the high volume used standard bronze materials such as CuSn4, CuSn5, CuSn6 and CuSn8 with higher performance concerning electrical conductivity as well improved relaxation performance at lower metal cost. In addition, the new alloy should be "green" in used elements and easy and attractive to recycle tin-coated strips.
This helps the user as well in providing a higher potential value for the unavoidable stamping scrap. Depending on the actual metal pricing at LME the metal cost of a typical solid solution copper alloy might reflect often 2/3 or more of the entire product cost for a bare strip. As such, offering a systematic lower metal cost is the major driver to overall lower the cost of the semi.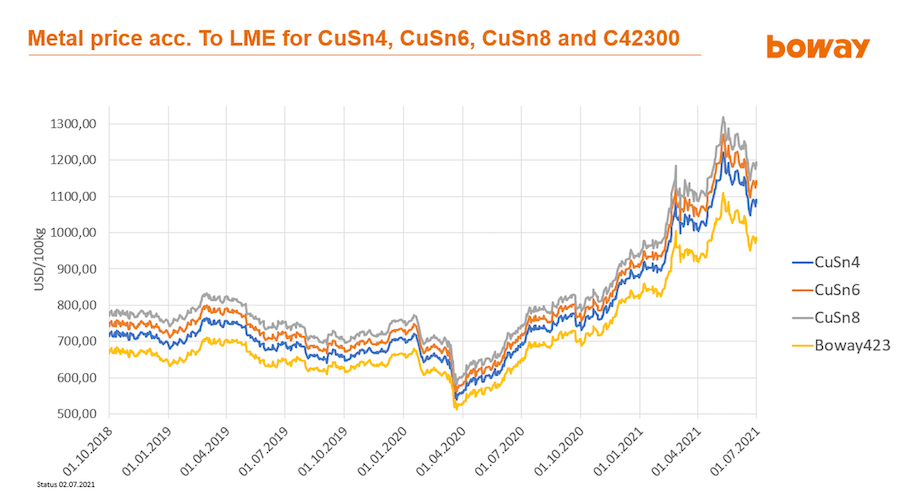 High-Performance C42300
C42300 is an environmentally friendly high-performance copper alloy independently developed by Ningbo Boway Alloy Material Co., Ltd in recent time.
This alloy is strengthened by several mechanisms, including solid solution hardening, precipitation hardening, fine grain hardening as well as work hardening. The composition of the C42300 alloy is shown in Table 1. The main elements of C42300 alloy are Cu, Sn, Ni, Si, and Zn, where Sn and Zn bring the effect of solid solution hardening, and Ni and Si elements are responsible for the formation of Ni-Si precipitates, which will improve the comprehensive property of this alloy, without significantly reducing the electrical or thermal conductivity.
The most remarkable feature of C42300 alloy is its good property combination, i.e., electrical conductivity is higher than 30% IACS and as such more than double of a standard bronze CuSn6. The maximum tensile strength can reach up to 720MPa. In addition, the chemistry allows the alloy to be easily plated, whether it is by hot dip tin (HDT) or electroplating (EP). Lastly, it shows a very convincing stress relaxation resistance and competitive, good formability. The overall performance of this alloy is between the standard bronze alloys and the common CuNiSi alloys, which however can only be produced at a significantly higher cost level. Its physical and mechanical properties are shown in Table 2 and Table 3. The properties of C42300 exceed as such the properties of most bronze alloys, ordinary Cu-Zn-Sn and brass. Moreover, using this alloy will improve product performance in several downstream industries.
Table 1. Composition of C42300 (unit: wt.%)
| | | | | | |
| --- | --- | --- | --- | --- | --- |
| Alloy | Cu | Sn | Ni | Si | Zn |
| C42300 | 87-91 | 0.5-1.5 | 0.5-1.5 | 0.1-0.3 | Rem |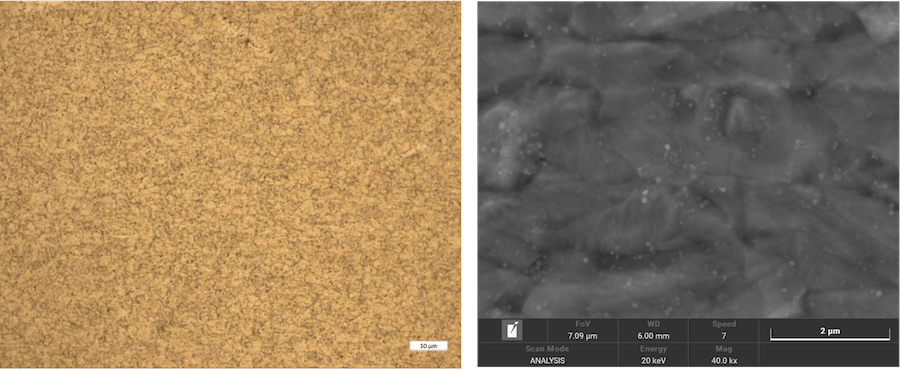 Picture 1. Boway 42300 Microstructure: Metallographic cross-section, scale 10 µm: Super Fine Grain Microstructure with Grain sizes below 3 µm. SEM Picture, scale 2 µm, reveals in addition fine NixSiy- precipitates with sizes below 100 nm.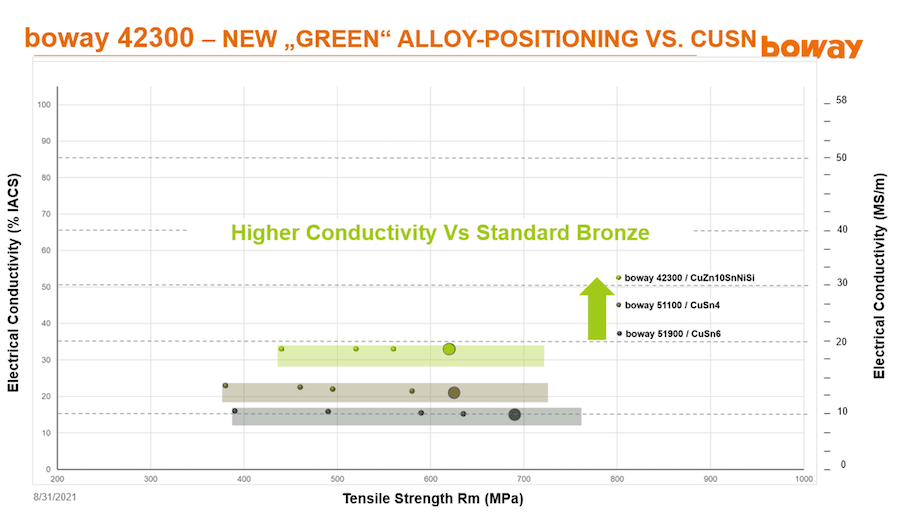 Picture 2. Boway 42300 Vs. Standard Bronze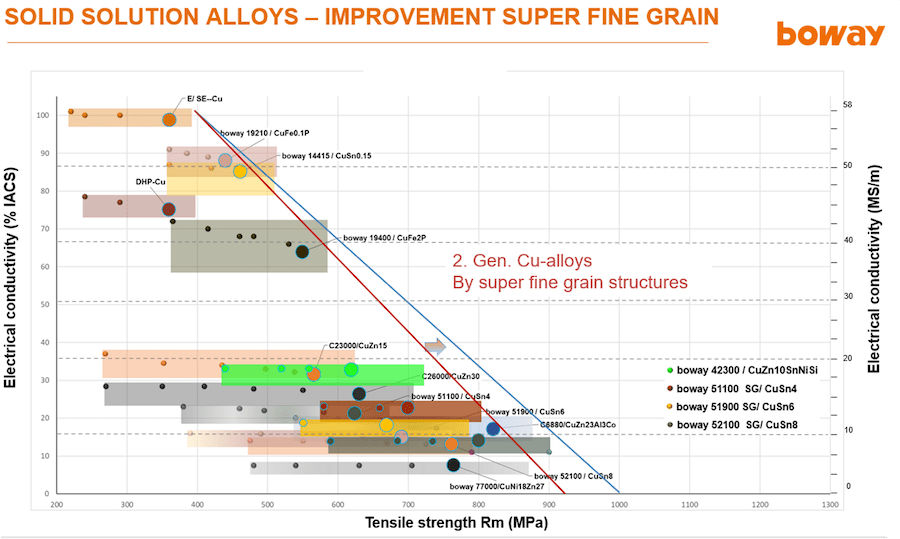 Picture 3. Solid Solution alloys, improvement by super fine Grain (SG)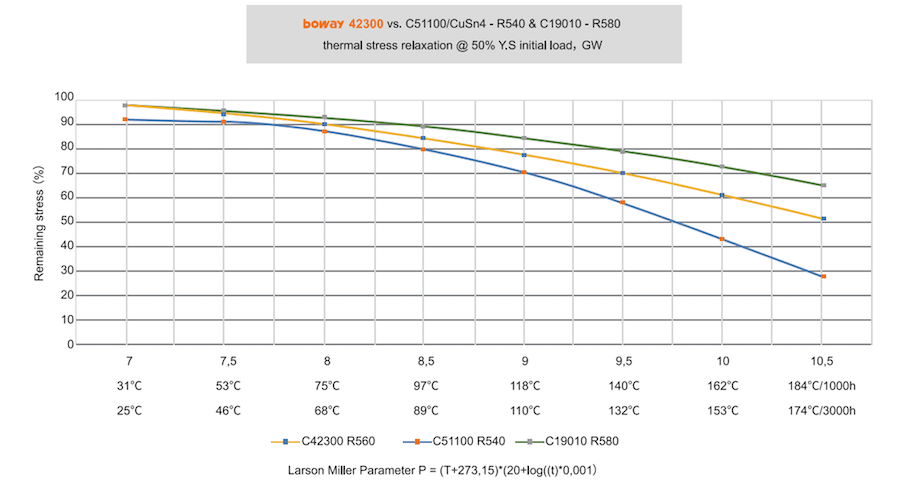 Picture 4. Benchmarking C42300 Vs CuSn6/C51900 and C19010/CuNi1Si. LMP method, SR ring test
Scrap Recycling - Green Alloy
Typical connector designs reach on average up to 50 % of scrap during the stamping process. As such, the reuse of scrap is an essential aspect of the green philosophy of sustainable economics. In the development of C42300, we tried to achieve a solution that does not require any hazardous elements and added Sn intentionally to achieve a good basis for scrap recycling of common tin plated terminal scraps. On the other hand, we selected Sn as low as possible to minimize the metal cost for the alloy. After common Sn and/or Ni plating, it can still be recycled and reused, which not only solves the problem of recycling Sn and Ni plating waste but also saves copper alloy resources.
Conclusion
This innovative alloy has major advantages of low metal cost, excellent mechanical and electrical performance, improved stress relaxation properties, green chemistry, and easy and cost-effective scrap recycling. As such this alloy can help to ease the cost situation for many users without providing new challenges and problems. It is not sensitive to stress corrosion cracking.
It meets the performance requirements of electronic and electrical system connectors on materials and has high application value in the field of connectors.