Nickel alloys will most of the time outperform stainless steels when it comes to corrosion resistance over a wide range of temperatures. However, the superiority in performance comes with a hefty price tag. That is why Alleima R&D has come up with an innovative material solution, which bridges that gap between stainless steels and nickel alloys, i.e., achieving high performance, high strength, and superior corrosion resistance while maintaining cost-efficiency. Sanicro® 35 (UNS N08935) is an ideal material for industries and applications for the pipe and tube market used in demanding environments such as hydraulic and instrumentation, heat exchangers, Maritime, and Oil & Gas.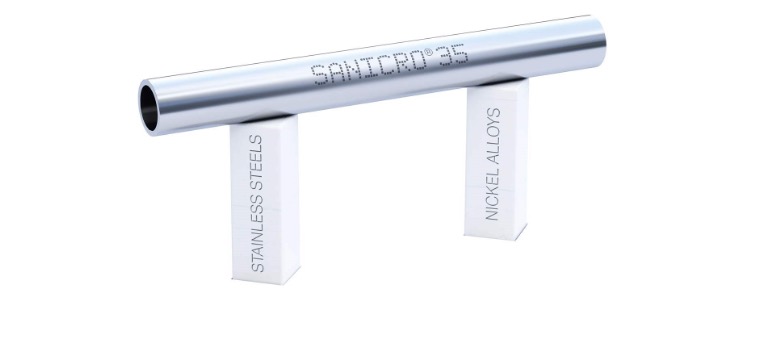 Sanicro® 35 is a newly developed material that earned its development team the Sandvik Innovation Prize in 2019. It also won the materials design category in the MP Corrosion Innovation of the Year Awards 2021. These awards are testaments to the material's exceptional performance, high strength, and superior corrosion properties over a wide temperature range.

Introducing Sanicro® 35, a new member of the Sanicro® family by Alleima.
Why Sanicro® 35 was developed
Sanicro® 35 is a special alloy that exhibits properties corresponding to highly alloyed nickel-based materials but with a significant cost advantage. It is a super-austenitic grade designed particularly for corrosive environments and seawater applications. The new alloy (UNS N08935) has a nominal chemical composition of 27%Cr-35%Ni-6.5%Mo-0.3%N, as shown in Table 1 below.
Table 1. The nominal chemical composition for Sanicro® 35.
Chemical composition (nominal) weight%

C

Si

Mn

P

S

Cr

Ni

Mo

Cu

N

≤ 0.03

≤ 0.5

0.8

≤ 0.03

≤ 0.02

27

35

6.5

0.2

0.3

Given the various corrosion risks, such as pitting and crevice corrosion, it is vital to use materials that can resist corrosion under different harsh corrosive conditions.
Austenitic stainless steels, for instance, can become susceptible to corrosion under extreme conditions. For that reason, Sanicro® 35, a super-austenitic stainless steel, was designed to exhibit improved corrosion resistance and higher strength than common austenitic alloys. A super-austenitic alloy with a chemical composition containing high levels of molybdenum, nitrogen, and nickel content with a stable structure.
Duplex stainless steels exhibit higher strength but are limited in their working temperature range. This limitation is due to their ferrite phase, which becomes unstable at high temperatures and cause embrittlement, deteriorating the material's mechanical properties.
These material groups leave a gap to be filled between them and the nickel-based alloys in terms of corrosion resistance and temperatures. This is where Sanicro® 35 fulfills its purpose.
Alleima developed Sanicro® 35 to bridge the gap in the market between stainless steels and nickel-based grades. This alloy is characterized by its excellent corrosion resistance (pitting, crevice, stress-corrosion cracking, erosion, and uniform corrosion), enabling its use in seawater applications and highly corrosive environments. This makes Sanicro® 35 a high-performance alternative to existing austenitic stainless steels, duplex stainless steels, and nickel alloys. The illustration in Figure 1 below provides a visual representation of where Sanicro® 35 fits among other materials.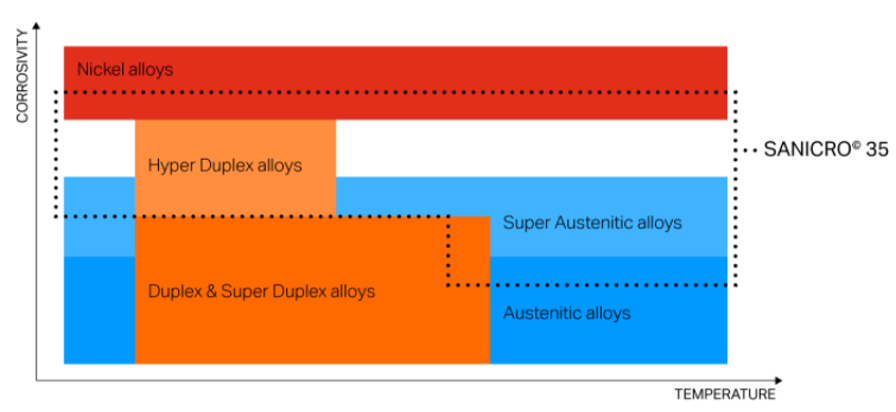 Figure 1. A corrosivity vs temperature illustration showing the placement for super-austenitic Sanicro® 35 and how it is bridging the gap between austenitic stainless steels, duplex stainless steels and nickel base alloys.
Corrosion properties of Sanicro® 35
Sanicro® 35's key advantages are found in its outstanding corrosion resistance behavior, including pitting corrosion and crevice corrosion.
Pitting corrosion resistance
Pitting is a local form of corrosion where a "corrosion cell" is formed between a local point and the neighbouring surface. This creates a small pit in the surface, which gradually grows into a bigger cavity. Pitting corrosion is one of the most common corrosion failures in high-demand applications.
Pitting resistance is characterized by a pitting resistance equivalent number (PREN), which is defined based on the material's chemical composition, particularly its chromium, molybdenum, and nitrogen contents. A higher PRE number is a theoretical indication of better pitting corrosion resistance.
PREN = %Cr + 3.3 × %Mo + 16 × %N
With a PREN of 52 and a critical pitting temperature (CPT) of over 85 °C, Sanicro® 35 borders nickel-based alloys in pitting resistance, such as Alloy 625 and C-276. It also shows superiority over super-duplex and austenitic alloys, such as 6Mo grade with PREN of ~42.5 and CPT of 65 °C.
Crevice corrosion resistance
Crevice corrosion is another localized form of corrosion that takes place in narrow gaps where oxygen flow is limited. These are areas of metal-to-metal contact or metal-to-nonmetal contact, such as underneath fasteners, bolt heads, gaskets, and washers. Such areas are referred to as dead spots, as liquid flow is reduced and restricted.
Test results from the ASTM G48 method F testing have shown a significant advantage in crevice corrosion for Sanicro® 35 over nickel-based Alloy 625, with critical crevice temperatures (CCT) of 45 °C and 25 °C, respectively. It also showed similar performance compared to Alloy C-276. Table 2 presents the CCT results for the alloys Sanicro® 35, Alloy C-276, Alloy 625, and Sandvik 254 SMO (6Mo).
Table 2. CCT results of ASTM G48 method F testing of Sanicro® 35 against other alloys.
Alloy

Critical crevice temperature (CCT)
(Testing method: ASTM G48 method F)

Sanicro® 35

45 °C

Alloy C-276

42.5 °C

Alloy 625

25 °C

Sandvik 254 SMO

35 °C

For more details on such tests and other corrosion properties, check out the technical properties in Sanicro® 35's technical datasheet.
Mechanical properties of Sanicro® 35
In addition to its excellent corrosion resistance, Sanicro® 35 delivers high mechanical properties and excellent structural stability over a wide range of temperatures.
Most notably, it has a yield strength of 425 MPa at room temperature (RT), significantly higher than the yield strength of Alloy 625 (276 MPa at RT), Alloy C-276 (283 MPa at RT) and 6Mo (310 MPa at RT). Sanicro® 35 also exhibits an elongation of 35% sustained even at elevated temperatures.
For more information on its properties, check out the technical properties in Sanicro® 35's technical datasheet.
Manufacturing properties of Sanicro® 35
Not only does Sanicro® 35 have high mechanical strength and corrosion resistance, but it also exhibits good weldability. The recommended welding process is TIG welding (GTAW) using nickel alloy UNS N06059 as a filler metal.
Sanicro® 35 also has outstanding formability, which allows cold bending into a tight bending radius, not limiting your design.
Applications of Sanicro® 35
Such an innovative alloy has an amazing potential to be a material of choice for pipes and tubes used in applications with corrosive environments, such as seawater applications, the Oil&Gas industry, heat exchangers, and hydraulic and instrumentation tubing.
In fact, due to Sanicro® 35's excellent mechanical properties, engineers can use tubes with thinner wall thickness, which can result in better heat transfer. Being a material with versatile properties, Sanicro® 35 can be your "all-in-one" instrumentation tubing grade, able to replace alloys like 6Mo, Alloy 625, Alloy C276, and Alloy 825.
Alleima has been providing innovative solutions and products for over 150 years, with materials ranging from stainless steels to special alloys, titanium, and other advanced materials. Today, Alleima has partnered with Matmatch to bring its advanced materials one step closer to engineers and product developers in search of engineering solutions. With their range of materials now found on Matmatch, you can explore, compare, and select the right material for your project.
Head over to Matmatch's advanced search to explore Alleima's materials or visit the Alleima supplier profile page to contact them via Matmatch.
For more specification-related questions, visit Alleima's product portal, where you can learn more about Sanicro® 35, request the complete datasheet, and find all related information.