Marine debris is an issue that has received much attention in the last decade, particularly when it comes to marine microplastics. Marine plastics are an issue that is widespread and readily observable, impacting even the most remote locations on the planet.
While not a leading threat to marine ecosystems, it is one that many people feel is readily addressable and tends to receive a lot of attention and investments. As such, many companies are now marketing recycled products under the theme of utilizing Ocean Bound Plastics. A large percentage of these abandoned plastics are single-use items, a problem addressable through a switch to products with circular economies.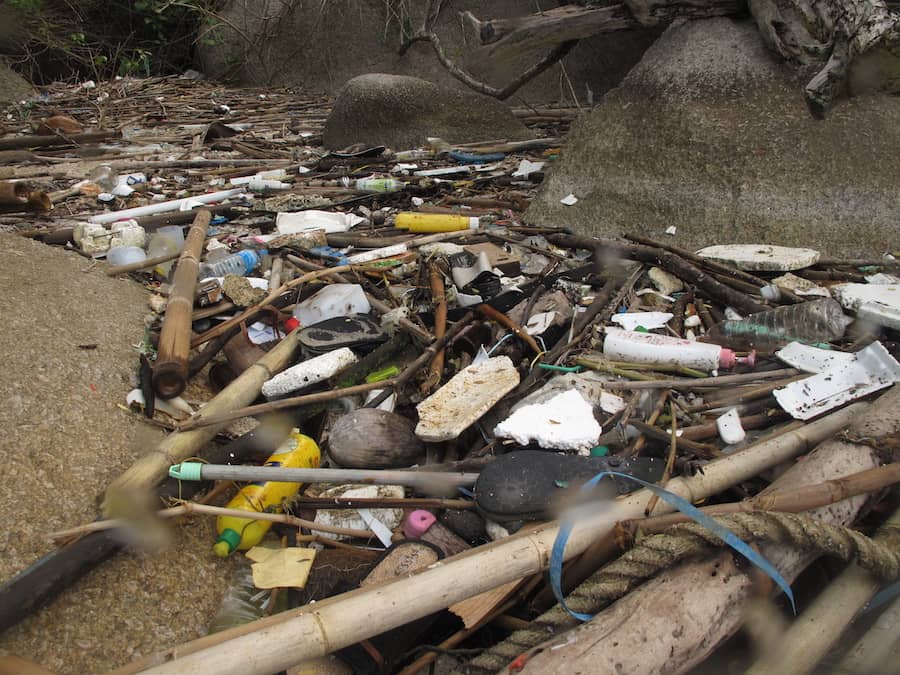 Credit: Chad Scott.
What is ocean-bound plastic?
Ocean Bound Plastics (OBPs) are any "abandoned plastic waste of all sizes (microplastics, mezzo-plastics, and macro-plastics) located within the range of 50km from shore in communities or areas where the waste management is inexistent or very inefficient." These plastics have a high probability of ending up in marine ecosystems, where they enter into the food webs and threaten the health of species both in and out of the water.
Plastics are of particular concern because of their resilience and longevity. The ability of plastic to withstand the forces of degradation makes them a valuable commodity but at the same time a threat to the environment. While most solid waste can biodegrade or oxidize, the long molecular chains of plastics are hard to break down. When ingested, they obstruct and harm the gut of marine organisms, leading to injury or death.
While large plastic items are the most obvious, it is the micro- (<5mm) and nano-plastics (<1000 nm) resulting from mechanical abrasion and photochemical breakdown due to waves and UV light that are most dangerous to marine life. These particles can bioaccumulate in marine organisms, causing a wide range of health effects. In corals, microplastic ingestion leads to "reduced growth, health, and alter[-ed] photosynthetic performance," according to Reichert et al. Studies have found that in mammals, these cause "modulations of gut microbiota, lipid metabolism, and oxidative stress." Furthermore, these small fragments collect and concentrate hydrophobic organic chemicals such as polychlorinated biphenyls (PCBs) and polycyclic aromatic hydrocarbons (PAHs).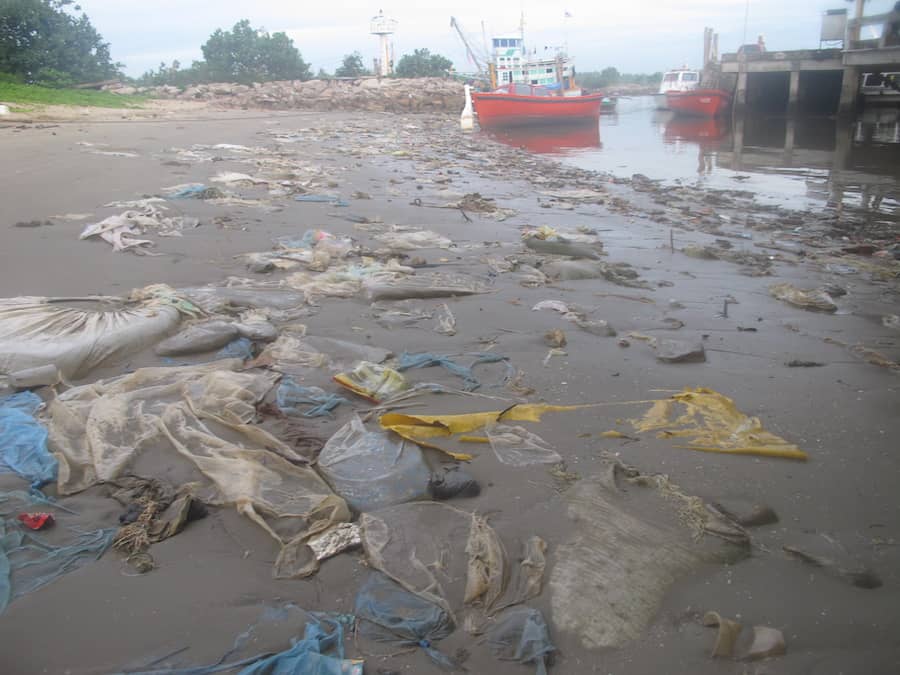 Credit: Chad Scott.
What are the main sources of ocean-bound plastic?
The sources and composition of OBPs vary significantly by region but are generally related to throw-away items such as packaging or items with linear cradle-to-grave life cycles. Currently, about 40% of the world's population lives within 100 km of the coast. These densely populated coastal areas are the transportation hubs for most of the resources and products we all use every day.
In 2010, between 4.8 and 12.7 million metric tons of plastic waste were estimated to have ended up in oceans from these coastal areas. While all coastal countries contribute to these numbers, the five leading countries contribute to 54.5% of marine plastics, with China making up more than 25% of the global total (27.7%, 1.32–3.53 m MT/yr), followed by Indonesia (10.1%), Philippines (5.9%), Vietnam (5.8%), and Sri Lanka (5.0%). Table 1 below shows the countries in more detail.
Table 1. Top 20 countries contributing to ocean-bound plastic waste (adopted from Jambeck et al.).
Rank

Country

Econ. Classif.

Coastal population [millions]

Mismanaged plastic waste [MMT/year]

% of total mismanaged plastic waste

Plastic marine debris [MMT/year]

1

China

UMI1

262.9

8.82

27.7

1.32-3.53

2

Indonesia

LMI2

187.2

3.22

10.1

0.48-1.29

3

Philippines

LMI

83.4

1.88

5.9

0.28-0.75

4

Vietnam

LMI

55.9

1.83

5.8

0.28-0.73

5

Sri Lanka

LMI

14.6

1.59

5.0

0.24-0.64

6

Thailand

UMI

26.0

1.03

3.2

0.15-0.41

7

Egypt

LMI

21.8

0.97

3.0

0.15-0.39

8

Malaysia

UMI

22.9

0.94

2.9

0.14-0.37

9

Nigeria

LMI

27.5

0.85

2.7

0.13-0.34

10

Bangladesh

LI3

70.9

0.79

2.5

0.12-0.31

11

South Africa

UMI

12.9

0.63

2.0

0.09-0.25

12

India

LMI

187.5

0.60

1.9

0.09-0.24

13

Algeria

UMI

16.6

0.52

1.6

0.08-0.21

14

Turkey

UMI

34.0

0.49

1.5

0.07-0.19

15

Pakistan

LMI

14.6

0.48

1.5

0.07-0.19

16

Brazil

UMI

74.7

0.47

1.5

0.07-0.19

17

Burma

LI

19.0

0.46

1.4

0.07-0.18

18*

Morocco

LMI

17.3

0.31

1.0

0.05-0.12

19

North Korea

LI

17.3

0.30

1.0

0.05-0.12

20

United States

HIC4

112.9

0.28

0.9

0.04-0.11

* If considered collectively, coastal European Union countries (23 total) would rank 18th on the list.

1 UMI = Upper Middle Income

2 LMI = Lower Middle Income

3 LI = Lower Income

4 HIC = Higher Income Country
The amount of plastic ending up as waste is roughly equivalent to the amount produced, with some variation due to the lifespan of some goods and recycling. The primary causes for this are linear life cycles and products designed specifically to be thrown away, such as food packaging. Plastic's life cycle is in contrast with other resources, like metals and glass, which have a high rate of recycling and re-use.
What types of plastics are ending up in the oceans?
The entire industry must move away from single-use products and step up recycling efforts to reduce the abundance of ocean-bound plastics and increase sustainability. However, there are many challenges to creating a plastic circular economy because of the unique properties of each resin type and the recycling methods.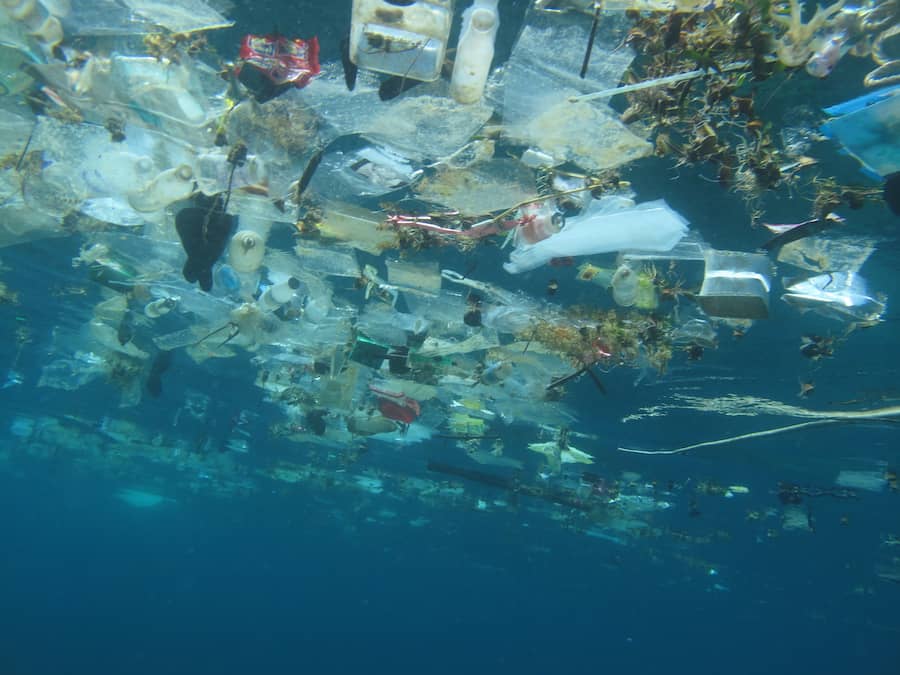 Credit: Chad Scott.
There are four main categories of recycling:
Primary recycling (mechanical recycling): closed loop-recycling to process into a product with similar properties
Secondary recycling (mechanical recycling): recycling to produce products with lower or downgraded properties
Tertiary recycling (chemical recycling): recycling to recover chemical constituents of the product (depolymerizing)
Quaternary recycling (energy recovery): vaporization or the recovery of energy
While thermoplastics are the most easily recycled in primary or closed-loop systems, their recycling is encumbered because of mixed polymer types and grades in use for most products. The separation and sorting process is increasingly difficult, especially following environmental degradation of the products.
Food packaging is made primarily from recyclable thermoplastics. However, multi-layering, additives, composites, and poor management leads to only 8.4% of food packaging being recycled, with about 1.7-4.6% ending up in oceans. In a multi-year study of the North-Western Atlantic, the plastic debris in the pelagic zone was found to be primarily polyethylene and polypropylene of sizes smaller than 10mm.
In a study of the Kenyan coastline, almost all the debris was categorized as either plastics or foams. Food packaging was the most abundant (91.3%), followed by personal care products and household products. Along the beaches, about 39.2% was multilayer packaging, and an additional 32.7% was single-layer packaging (mainly polyethylene), 16.0% were PET bottles, with the remaining being HDPE, PP, and PVC.
So, while thermoplastics are the most conducive to closed-loop life cycles, it is evident that they are not being used in that way.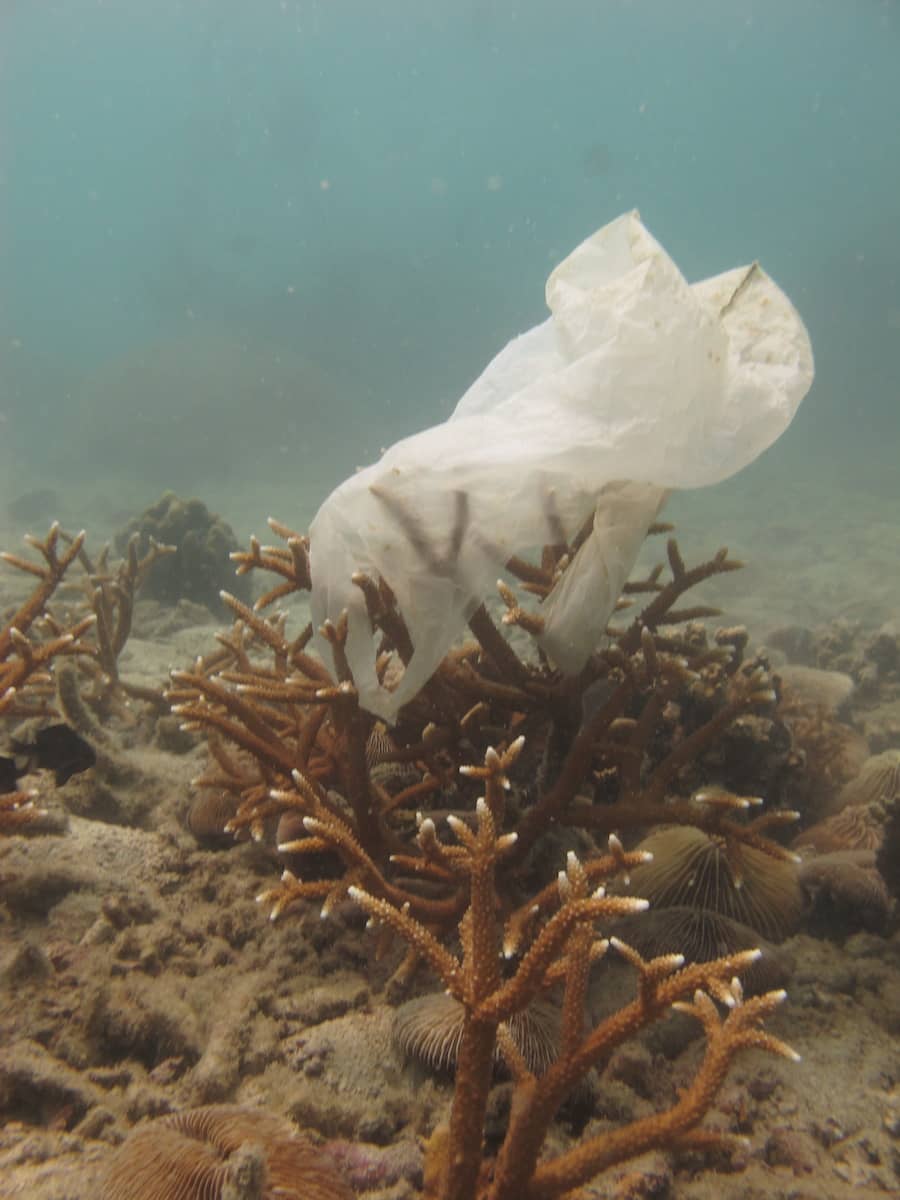 Credit: Chad Scott.
What is being done to create sustainability and a circular economy for plastic?
Marine plastics are an issue that requires broad and widespread changes to every stage of the product's life cycle. This shift requires cooperation from all sectors involved in its production, use, and disposal, but primarily from the producers of the products being used and thrown away.
Many producers are now starting to take responsibility by using more reclaimed resins in their products rather than virgin ones and focusing on OBPs. For example, HP has set up a program in Haiti to pay local plastic collectors and turn waste into computers. Windex has pledged to create its bottles out of 100% OBP, removing 1,400 metric tons in 2020.
Plastic resin suppliers like Lavergne are also joining in making this shift easier on all product manufacturers by offering a wide range of recycled resins. By providing a full range of standard and custom resins made from 100% post-consumer recycled products, they are helping to close the loop.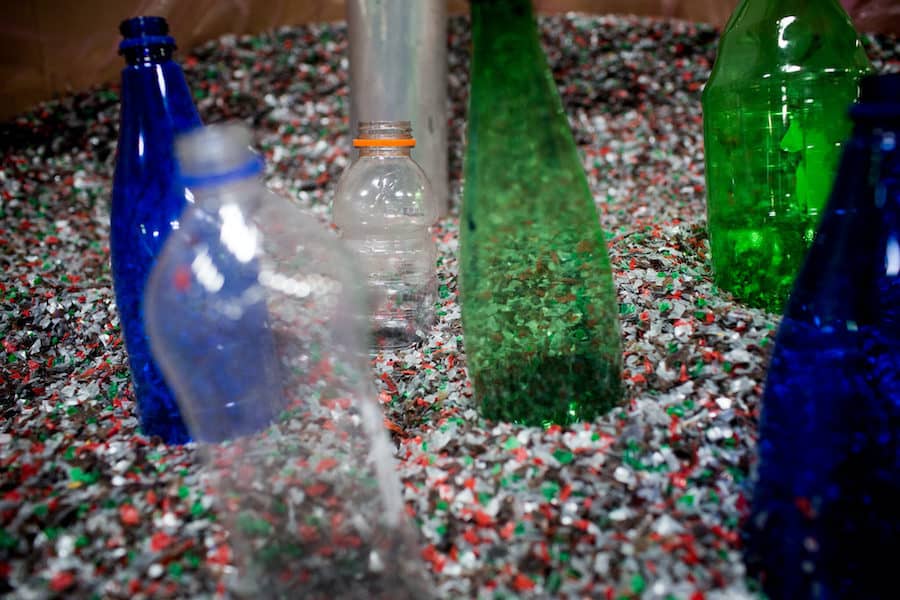 Credit: Lavergne.
In developing countries, initiatives based on the simple Precious Plastics processor are creating a democratized system of recycling that removes ocean-bound plastics while creating job opportunities. In places like Malaysia and Thailand, these projects have already removed thousands of pounds of plastic from beaches and waterways and turned into goods sold locally by collectors.
While there are a lot of promising initiatives to recycle or replace plastics, unfortunately, millions of tons are already in the ocean. Much of this plastic floats at the surface and gets caught up in circulating gyres, where it becomes concentrated in large patches. In September of 2021, the Ocean Cleanup Project completed its first large-scale test of new technology to collect, remove, and create new products from ocean garbage patches. Their goal is to remove 90% of the floating ocean plastic. They are joined by hundreds of local and international education and action-based non-profits such as Save The Plastic.
Plastics have transformed our lives and society, but throw-away culture and poor waste management mean they have also changed our marine ecosystems. While individual efforts to reduce consumption can have an impact, only through a shift towards circular economies can we achieve sustainability. The companies creating products intended to go from cradle-to-cradle or supplying recycled raw materials will be leading the way forward in this fight. Focusing on ocean-bound plastics is a triage tactic to address the most vital areas first, but eventually, it will take a coordinated effort in all areas to solve the larger issue.
If you've enjoyed reading this article, you can also read more related content here: