In the world of design and mobility, three critical challenges stand out as designers, engineers, and manufacturers seek the best materials for their applications. These challenges can be described as weight reduction, efficiency enhancement, and cost reduction. In its shift towards e-mobility and self-driving vehicles, the automotive industry is hindered by the difficulty of removing unnecessary weight, and consequently, lowering costs, while maintaining performance or more importantly, improving it.
A solution that can pave the way for industries, like the automotive industry, to move forward effectively should bring about cost-effective and rapid processing of high-performance materials in order to render them suitable for the next generation of applications; and this solution is now available!
Evonik Industries AG, one of the globally leading specialty chemicals companies whose products can enhance the effectiveness and properties of products in industries such as the automotive, medical, and chemical industries, is offering not one, but multiple solutions that can fit the necessities of these industries and transform what was once a design concept into practical applications, mainly through its VESTALITE® and ALBIPOX® resins.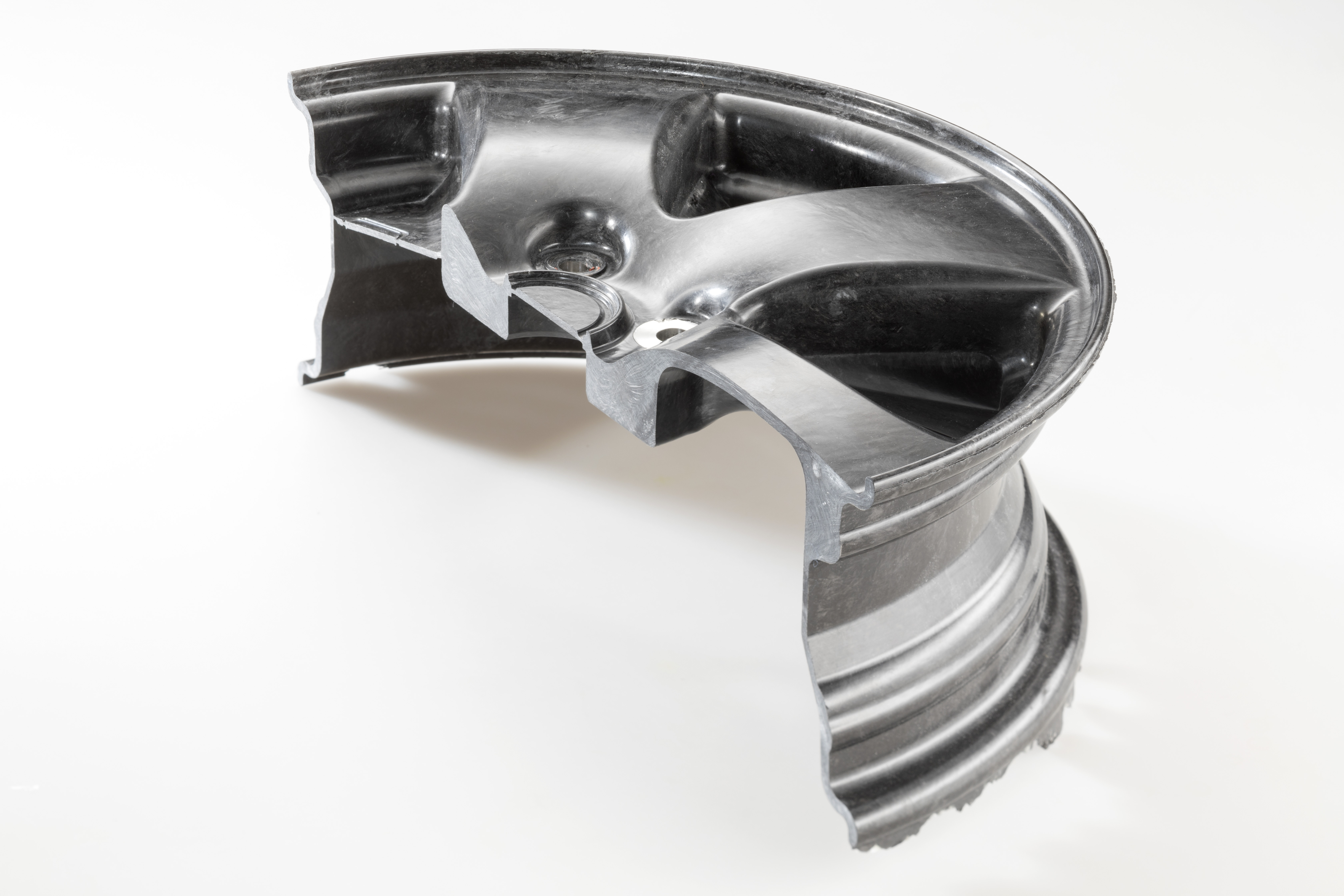 VESTALITE® S material. Courtesy of Evonik Industries AG
VESTALITE®
VESTALITE® products are customised solutions based on epoxies and polyurethanes that allow for fast and cost-efficient processing for high-performance composite parts, as in structural parts, body components, and interior parts. VESTALITE® comprises two main material series, namely the S material group and the P material group.
VESTALITE® S series
The VESTALITE® S series consists of curing agents for epoxy sheet moulding compounds (SMC) materials. These diamine-based epoxy hardening materials, when combined with epoxy resins, generate high-performance SMCs, which are fast and simple to process for applications that require structural lightweight materials with low-to-zero levels of emissions. Such applications include semi-structural parts, supporting structures, exterior and interior components.
There are two VESTALITE® S curing agents currently available: the VESTALITE® S 101 and VESTALITE® S 102. They are designed for SMC applications, with low initial viscosity during compounding and exceptional fibre wetting. Both feature high storage stability in the B-stage, and due to their high reactivity, are able to decrease the curing time down to 4-5 mins (S 101) and 3 mins (S 102) at 150°C, while providing optimum flow properties.
Key properties
1. Styrene-free and low VOC emissions
One of the most important concerns to take into consideration during manufacture and processing is the reduction of emissions, and VESTALITE® S stands out in its emission reduction effectiveness, as it has no styrene emissions and an essentially low volatile organic compound (VOC) emissions not exceeding 10 µg/g. Bearing in mind the forthcoming regulations on vehicle indoor air quality (VIAQ), VESTALITE® S holds a remarkable material advantage in prospective interior design applications.
2. High mechanical performance
Not only do VESTALITE® S curing agents display an advantage in the technical processing, but they also help in manufacturing SMC materials with outstanding mechanical properties. Carbon fibre-reinforced VESTALITE® S SMC, for example, have a significantly higher tensile modulus as compared to conventional epoxy resin-based SMCs, while glass fibre-reinforced VESTALITE® S SMC hold a much stronger tensile strength, which shows a major potential for lightweight designs for car parts.
3. Cost-effective manufacturing
Despite the material costs of fibres, which usually contribute to an increase in the overall component cost, integrating VESTALITE® S into the manufacturing of the component exhibits an economical prospect when considering a holistic approach, as a weight reduction that may well exceed 50% would result in an overall drop in cost. Moreover, taking into account the whole life cycle of the component, costs could be further decreased through secondary weight savings and TCO reduction.

VESTALITE® P material. Courtesy of Evonik Industries AG
VESTALITE® P series
The VESTALITE® P series is a group of resin formulations designed to produce risk-free, shape-reversible prepregs for low-cost, automatic, and rapid compression moulding of prepregs (PCM). This material group includes resins that can display exquisite surface qualities.
The VESTALITE® P group branches into VESTALITE® P 311 & 312 resins that are used for automated production of body panels, components for exposed surface applications and structural FRP components.
Key properties
1. Easy to use in PCM process
These polyurethane-based resin formulations create room temperature-stable, dry and non-tacky prepregs with thermoplastic behaviour for preforming (at 70°C -100°C) without the need for a binder. Both feature high storage stability in the B-stage, and due to their high reactivity, are able to decrease the curing time down to 5 mins (P 311) and 3 mins (P 312) at 160°C.
2. Cost-effective manufacturing
Due to inherent UV stability of the isocyanate chemistry and low residual shrinkage after prepregging, the VESTALITE®P based prepregs lead to high quality composites surfaces that allow a reduction in surface treatment and paint cost, and in combination with an efficient PCM process overall part cost.
3. Durable in use
In addition to shrinkage and UV performance, the VESTALITE® P Polyurethane chemistry reveals improved toughness and ductility performance compared to epoxy prepreg chemistry, leading to best-in-class results in durability performances such as stone chipping and surface scratches in use.
Check out the list of VESTALITE® materials with all their properties, and contact Evonik for more.
ALBIPOX® material. Courtesy of Evonik Industries AG
ALBIPOX®
ALBIPOX® products are high-performance elastomer-modified epoxy resins designed to improve the mechanical properties of epoxy resins, such as those in adhesives, fibre-reinforced composites, and electronic applications. In particular, the ALBIPOX® F products are designed particularly for composites with exceptional mechanical properties and outstanding fatigue performance.
ALBIPOX® F group consists of ALBIPOX® F 080 & F 081 and ALBIPOX® F 061 resins. These resins are used to improve epoxy resins in areas where a radical enhancement in toughness is required over a wide temperature range while maintaining a low viscosity. Main applications include high performance fibre-reinforced composites like filament wound gas tanks (i.e. for hydrogen), aerospace parts, and machine parts made by VARTM.
Key properties
These resins are used either instead of unmodified resins or as blend (i.e. 1:1) with standard epoxy resins. They provide increased fracture toughness and impact resistance, improved adhesion to fabrics, and higher energy absorption at mechanical impacts. They have greater mechanical properties at low temperatures and exhibit no decrease in thermo dimensional stability. Fatigue performance is improved significantly, which translates in extended service life of composites parts. Compressive strength and crash resistance are increased substantially – quite important for gas tanks and similar applications.
Furthermore, they are Si-free and do not contain any solvents or softeners. Their average viscosity facilitates their usage in resin formulations for injection methods, such as resin transfer moulding and reaction injection moulding. ALBIPOX® F 061 is designed for filament winding, whereas ALBIPOX® F 080 & F 081 are rather designed for RTM, VARTM and VARI applications.
Check out the list of ALBIPOX® materials with all their properties, and contact Evonik for more.
ALBIPOX® material. Courtesy of Evonik Industries AG
About Evonik
Evonik is a world leader in specialty chemicals as it offers effective solutions based on high performance materials. Evonik products contribute to various areas of application, which are categorised into nutrition and care, resource efficiency, and performance materials segments. In terms of the resource efficiency segment, high-performance materials are provided for eco-friendly and energy-efficient systems in different industries, including automotive, construction, paints, adhesives, and coatings.
Did you know that Evonik manufactures and supplies composite materials? Click here to learn more about their products and contact them straight away.