When you modify a workpiece's form, surface, and material properties through the processes of metal forming, you most likely encounter issues of material scrap and serious scratches on your work. This is, generally, due to the surface roughness of the die within which the work is formed. Commonly used tool steels and alloys such as ferrotitanium alloy begin to rapidly lose their low friction coefficient and surface roughness after as few as a hundred cycles. This calls for more innovative materials that can maintain low levels of friction and roughness to be used in such metal forming dies. Aluminium bronze has proven to be an excellent candidate as a tool material. Here, we will discuss the difference between those materials and how aluminium bronze has moved up the ranks to be one of the best materials for metal forming tools.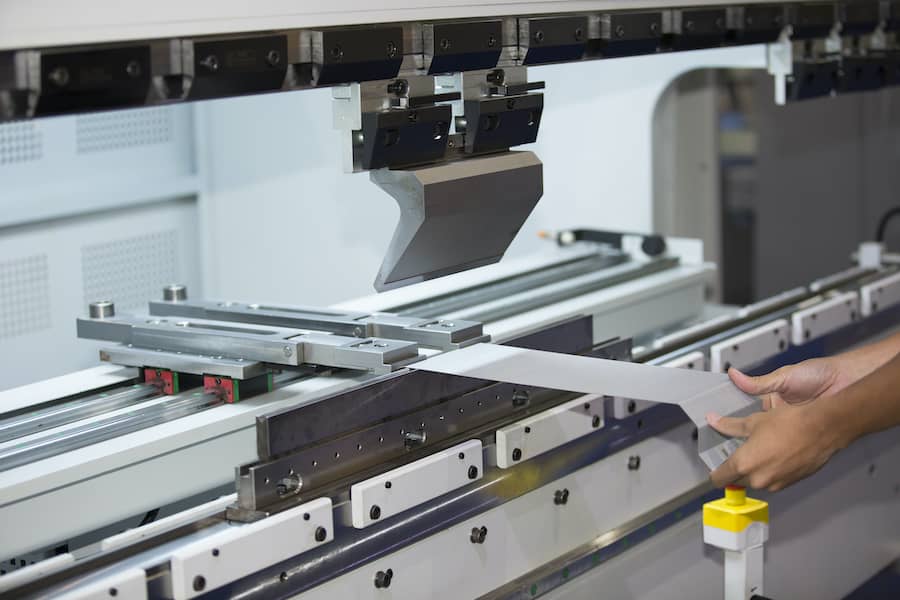 Figure 1. Metal forming process (bending).
Metal forming processes, such as drawing, extrusion, rolling, forging, and bending, are some of the major processes in manufacturing. Whether hot or cold, these processes make use of localised compressive forces that help deform the workpiece into a product of desired shape and surface. As those local compressive forces are applied on the workpiece, high contact pressures are generated at the interface between the die and the work. In addition to that, high shear stresses begin to develop during sliding alongside a rise in temperature at the areas of contact as a result of friction and plastic strain. Such conditions cause the transfer of some of the relatively soft workpiece material onto the surface of the harder die surface, resulting in a bonding phenomenon. This, in turn, adds to the surface roughness of the die, which can prove damaging to the workpiece, giving rise to severe scratches on its surface.
To minimise the effect of such an issue, lubrication is generally used as it preserves the geometry of the tools and the quality of the work by minimising friction and cooling the tools down. The latter helps prevent overheating and undesired drops in hardness. However, if the die material's hardness is too high, the surface finish not precise, and the lubricant is mixed with hard particles, it would be quite difficult to avoid scratching. For that, the focus is centred on the die material and its properties.
Tool materials and how they fare against scratches
The tribological behaviour during metal forming is a significant determinant of the product quality, the tool service life, and the stability of the forming process. This relies on a number of parameters, most importantly:
The state of contact at the workpiece/tool interface
The contact pressure
The lubrication fluid condition
The surface topology
With that in mind, the properties of the materials that make up the tools have a significant effect on many of these parameters. Of the common materials used in metal forming tools are tool steels such as P20, H13, and D2, ferroalloys such as the ferrotitanium alloy, and aluminium bronze such as AMPCO® 25.
Tool steel vs ferrotitanium alloy vs aluminium bronze
Tool steels are a family of carbon alloy steels that are characteristic in their toughness, hardness, and resistance to wear and high temperature. They, generally, contain elements like chromium, molybdenum, tungsten, and vanadium, which help in forming carbides. AISI P20, for example, is a low-carbon (0.4% max) mould steel that is carburised or nitrided to be used in low-temperature die casting dies. AISI H13 is a chromium hot-work steel that is more commonly used in hot and cold work tooling, owing to its good toughness and fatigue resistance. Another example is AISI D2, a high-chromium cold-work steel with a relatively high carbon content, designed to exhibit high wear resistance and high hardenability. This tool steel is mainly used in cutting and deformation tools that are under high abrasive wear.
On the other hand, ferrotitanium is, as its name implies, an alloy of iron and titanium, with sporadic traces of carbon. Its titanium content ranges between 20% and 75%, depending on its manufacturing process. It is used in steelworking as titanium helps minimise the harmful effects of oxidising agents by stabilising compounds of oxygen, carbon, sulphur, and nitrogen.
However, these materials, being iron-based alloys, suffer from susceptibility to bonding with stainless steel products, a phenomenon mentioned above where particles from the workpiece tend to migrate to the harder tool material and adhere to its surface. As a result, the surface finish of the die becomes less smooth, exhibiting a significant increase in surface roughness. A rough die surface can easily scrape the worked product and cause severe issues in its form.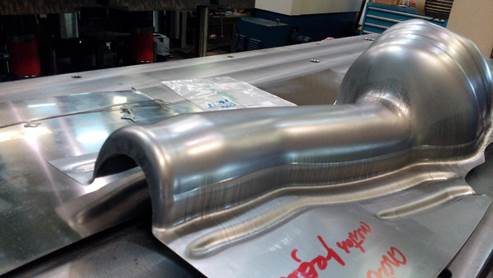 Figure 2. A workpiece with a poor surface condition (scratches) after being worked with D2 steel. (AMPCO METAL)
For that reason, engineers are inclined to utilise better materials with less solubility and less adhesion with iron. AMPCO® 25 from AMPCO METAL, for example, is a copper-based alloy that has significantly less solubility with iron (Cu: < 0.25 at%) than iron-based alloys (Fe: > 400 at%), low adhesion, and good thermal conductivity. On top of that, this aluminium bronze alloy has high wear resistance and excellent mechanical properties, such as high hardness, high compressive strength, and outstanding friction properties. All this makes it an ideal material for dies in forming and drawing processes.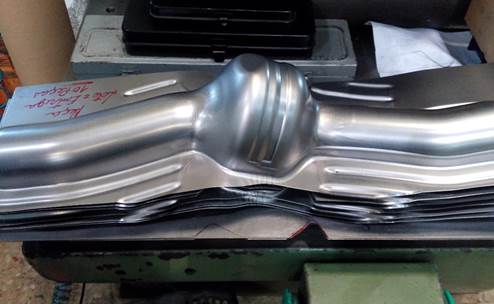 Figure 3. A workpiece with no scratches after being worked with AMPCO® aluminium bronze. (AMPCO METAL)
The figure below shows a direct comparison between ferrotitanate, tool steel (that has undergone boronising), and AMPCO® 25 in terms of surface roughness and coefficient of friction per number of shots. The superiority of AMPCO® 25 is quite evident as the roughness and friction coefficients of both ferrotitanate and tool steel begin to increase dramatically after about a hundred cycles. Whereas, AMPCO® 25 maintains minimal surface roughness (excellent finish) and a steady coefficient of friction even after ten thousand shots.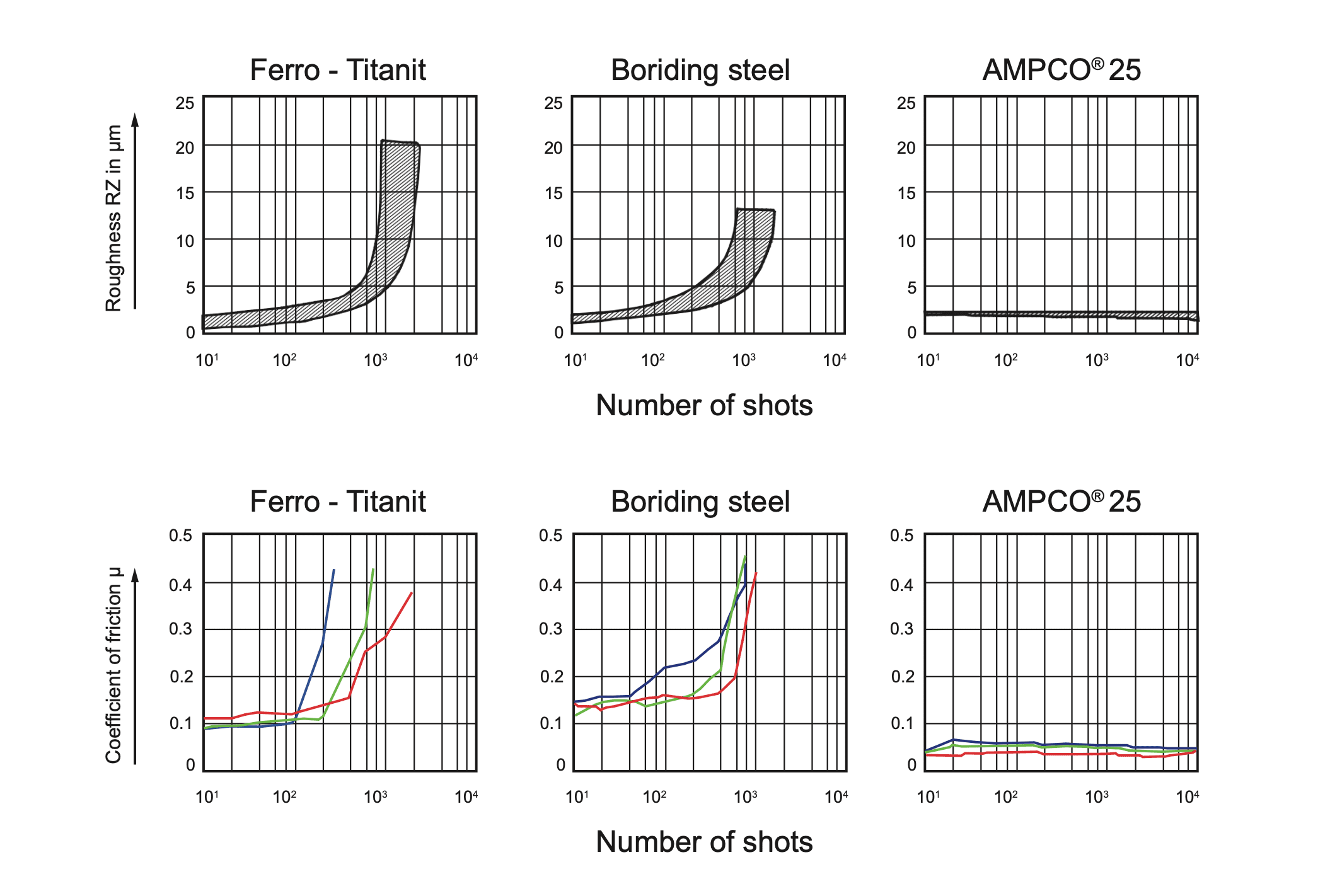 Figure 4. The change in surface roughness and friction coefficient per number of shots in each of ferrotitanate alloy, boriding steel, and AMPCO® 25. (AMPCO METAL)
While ferrotitanium and boriding steel are effective materials during the first hundred uses or so, the sharp increase in their surface roughness and friction coefficient renders them inadequate, which would require extended downtime for maintenance or replacement. Contrarily, AMPCO® 25 helps not only in extending the service life of the tools but also in maintaining high product quality in every shot.
Production and Properties of AMPCO® 25
AMPCO® 25 can be produced in various methods, including continuous casting, centrifugal casting, sand casting, forging, and extrusion.
The table below shows the different material properties of multiple AMPCO® 25 materials based on their production processes, together with the application areas in which AMPCO® 25 excels. Notice the main difference in compressive strength and hardness values.
Table 1. Property comparison between multiple AMPCO® 25 materials based on their production process.
Mechanical Properties

1551 MPa at 20°C

1551 MPa at 20°C

1579 MPa at 20°C

Compressive yield strength, 0.1%

689 MPa at 20°C

689 MPa at 20°C

706 MPa at 20°C

110 GPa at 20°C

110 GPa at 20°C

110 GPa at 20°C

364 [-] at 20°C

375 [-] at 20°C

375 [-] at 20°C

38 [-] at 20°C

40 [-] at 20°C

40 [-] at 20°C

Thermal Properties

1.62x10-5 1/K at 20°C

1.62x10-5 1/K at 20°C

1.62x10-5 1/K at 20°C

420 J/(kg·K) at 20°C

420 J/(kg·K) at 20°C

420 J/(kg·K) at 20°C

33 W/(m·K) at 20°C

33 W/(m·K) at 20°C

33 W/(m·K) at 20°C

Electrical Properties

4.00x106 S/m at 20°C

4.00x106 S/m at 20°C

4.00x106 S/m at 20°C

Specific electrical conductivity

8 % IACS

8 % IACS

8 % IACS

General Properties

Density

6.93 g/cm3 at 20°C

6.93 g/cm3 at 20°C

6.93 g/cm3 at 20°C

Application areas

The phenomenal success of AMPCO® 25 led to its use as forming rolls, bending and wiping blocks, and it is considered the standard material in this field of applications. Due to its inherent friction properties, this alloy has excellent behaviour in any wear application where high compression loads are present.
Selecting the ideal metal forming tool material
Sourcing and acquiring the right material for your forming dies is no easy matter. However, material suppliers, like AMPCO METAL, have partnered with Matmatch to digitise their materials portfolio and make sure they provide engineers and product developers with all the necessary information that would help them make an informed decision.
AMPCO METAL is a reputable material producer serving customers for over a century with metals in different forms, including round bars, plates, tubes, and rectangles. Their global presence has enabled them to reach engineers all over the world. Today, being a trusted Matmatch supplier, they have taken a step further into the digital world to reach more users.
Visit the AMPCO METAL supplier page for more information on their materials and to get in direct contact with them.