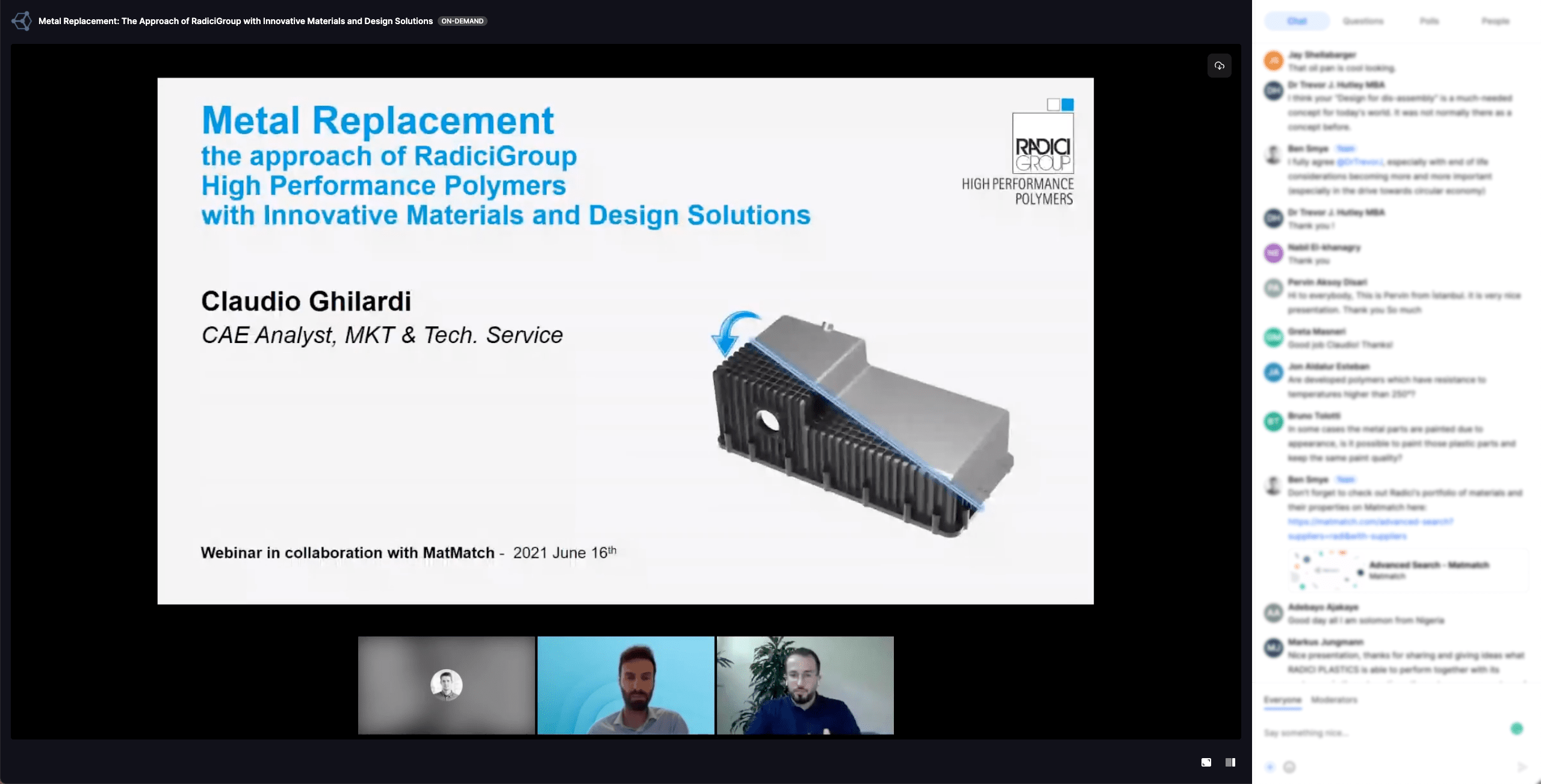 Access this on-demand webinar here.
The use of engineering polymers for metal replacement is an issue of central importance that is receiving more and more attention in diverse industries. In sectors such as automotive, electrical/electronics, water management and industrial, to name a few, the use of thermoplastic parts means weight reduction, greater freedom in product design, CO2 emission reduction and, at the same time, higher performance. All this allows for considerable cost savings – and more: products may be disposed of more easily and have a greater opportunity to be reused and a longer life cycle. These are important features that can improve sustainability performance.
RadiciGroup High Performance Polymers is one of the most highly experienced multinationals engaged in the production and supply of polyamide and polyester engineering polymers around the globe, thanks to its worldwide presence and its research and development activities increasingly more focused on high performance polymers.
For years, the organization's innovation portfolio has been driven by the objective to ensure both maximum performance and sustainability. These two closely related requirements determine the success of the products and services offered by the RadiciGroup High Performance Polymers Business Area.
This on-demand webinar presents the RadiciGroup High Performance Polymers materials portfolio specifically developed for metal replacement to solve the main application challenges in various sectors. A substantial part will be dedicated to illustrating the typical properties of thermoplastic polymers and a number of "design rules" aimed at optimizing component performance.
In conclusion, the use of CAE advanced simulation tools will be demonstrated. RadiciGroup High Performance Polymers can offer its customers this service to strengthen their development process and simultaneously achieve higher goals in lightweighting, safety and performance.
Agenda:
RadiciGroup High Performance Polymers at a glance
Metal replacement: materials portfolio
Metal replacement: design approach
Advanced CAE tools for material selection and part redesign
Case studies