Complex geometrical structures, including undercuts, walls with various thicknesses and hollow spaces are difficult to manufacture with traditional methods. Such geometries can be produced by additive manufacturing (3D printing) in a resource-saving and fast manner.
With the continuously growing industrial activity in additive manufacturing, the range of materials which are available for 3D printing is increasing. Nowadays, 3D printing of polymers or metals is widely spread. SGL Carbon's latest innovation is focused on 3D printing of carbon composites and silicon carbide ceramics. Thus, the outstanding properties of both materials are now combined with the freedom of design provided by 3D printing.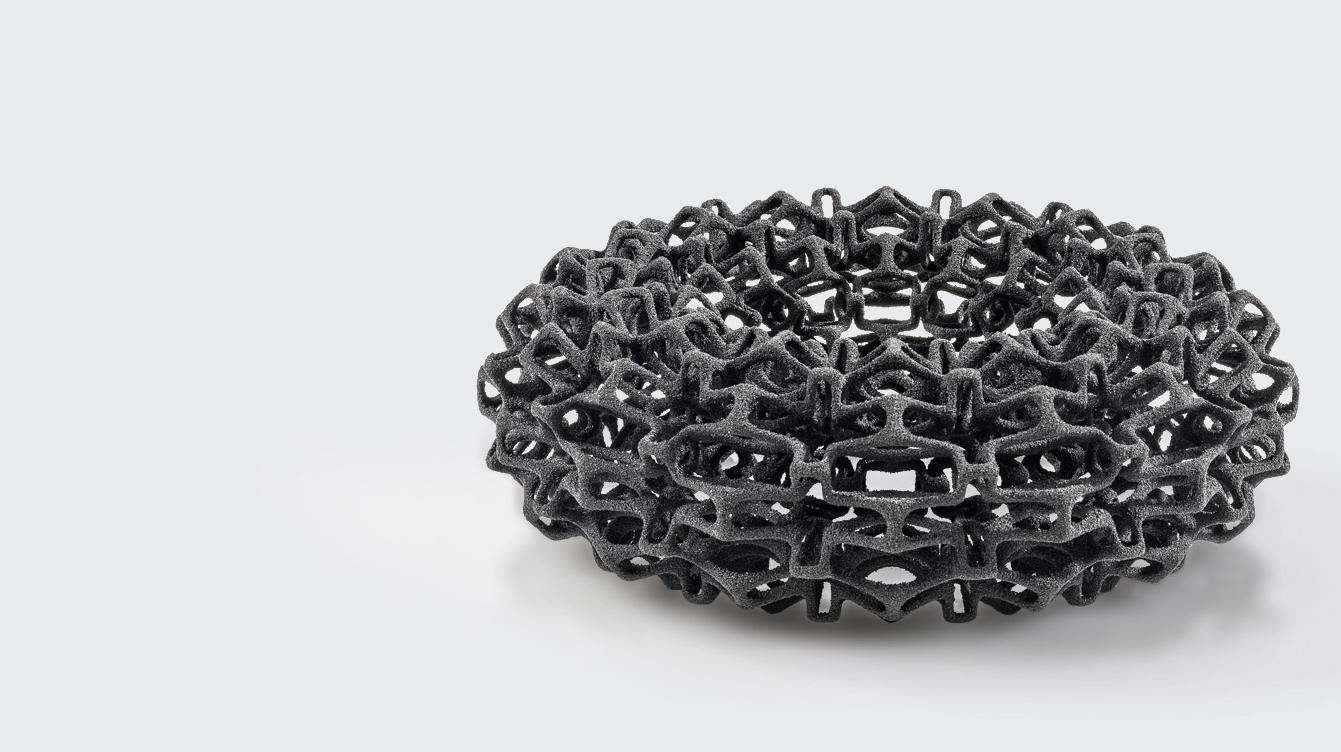 Components with complex geometries can be produced with 3D printing
About our materials
CARBOPRINT® and SICAPRINT® are two series of materials from SGL Carbon, which have been developed for 3D printing carbon composites and silicon carbide components.
3D printed carbon composites
Due to the unique material properties of carbon (low weight, good electrical conductivity, thermal conductivity, chemical stability and stability at high temperatures), it is ideal for many industrial applications. This makes carbon a promising material for additive manufacturing.
Our carbon parts are 3D printed using binder-jetting technology. Furthermore, different post-processing methods are offered to achieve customer tailored material properties. It is possible to infiltrate the 3D printed parts with polymers or liquid silicon. Therefore, the CARBOPRINT® series includes porous carbon, polymer-carbon composites and ceramic-carbon composites, each material with its own advantages and fields of application.
CARBOPRINT® C
CARBOPRINT® C consists of carbon powder bonded with chemically and thermally stable binders. The printed CARBOPRINT® C parts are highly porous and are an ideal basis for post-processing, for example for infiltration with polymers (CARBOPRINT® P) or liquid silicon (CARBOPRINT® Si).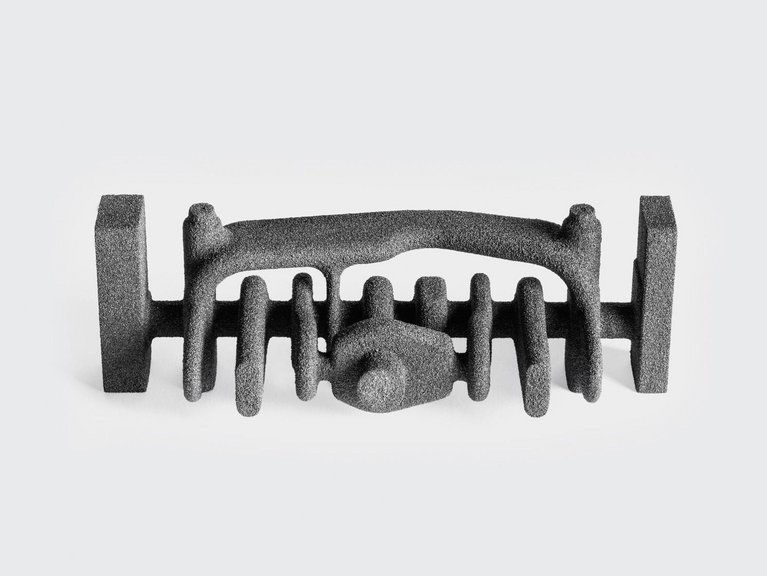 3D-printed casting core
CARBOPRINT® P
CARBOPRINT® P parts consist of CARBOPRINT® C infiltrated with different polymers. CARBOPRINT® P is heat resistant up to 200°C, while other properties such as chemical and mechanical stability can be tailored depending on the choice of polymer. In addition, the printed components are lightweight.
Compare two variations of CARBOPRINT® P
CARBOPRINT® Si
CARBOPRINT® Si is a ceramic-carbon composite material. It is prepared through liquid silicon infiltration of 3D printed CARBOPRINT® C.
CARBOPRINT® Si shows excellent performance and longevity when exposed to high-temperature conditions and other harsh environments. It is lightweight, due to its low density. Furthermore, it shows an excellent thermal shock resistance, a high wear resistance and a high bending strength.
Three variations of CARBOPRINT® Si can be compared on Matmatch.
Typical properties of various CARBOPRINT® materials are compared in the table below.
| | | | |
| --- | --- | --- | --- |
| | CARBOPRINT® C1 | CARBOPRINT® P1 | CARBOPRINT® Si1 |
| Density (g/cm3) | 1.0 | 1.6 | 2.2 |
| Porosity (%) | 40-50 | - | <0.1 |
| Flexural strength (MPa) | 5 | 15 | 65 |
| Elastic modulus (GPa) | 2 | 6 | 70 |
| Coefficient of thermal expansion at 200°C (E-6 1/K) | 5.5 | 12.0 | 3.0 |
| Thermal conductivity (W/(m·K)) | <1 | 40 | 40 |
| Electrical resistivity (µΩm) | 125000 | 35 | 30 |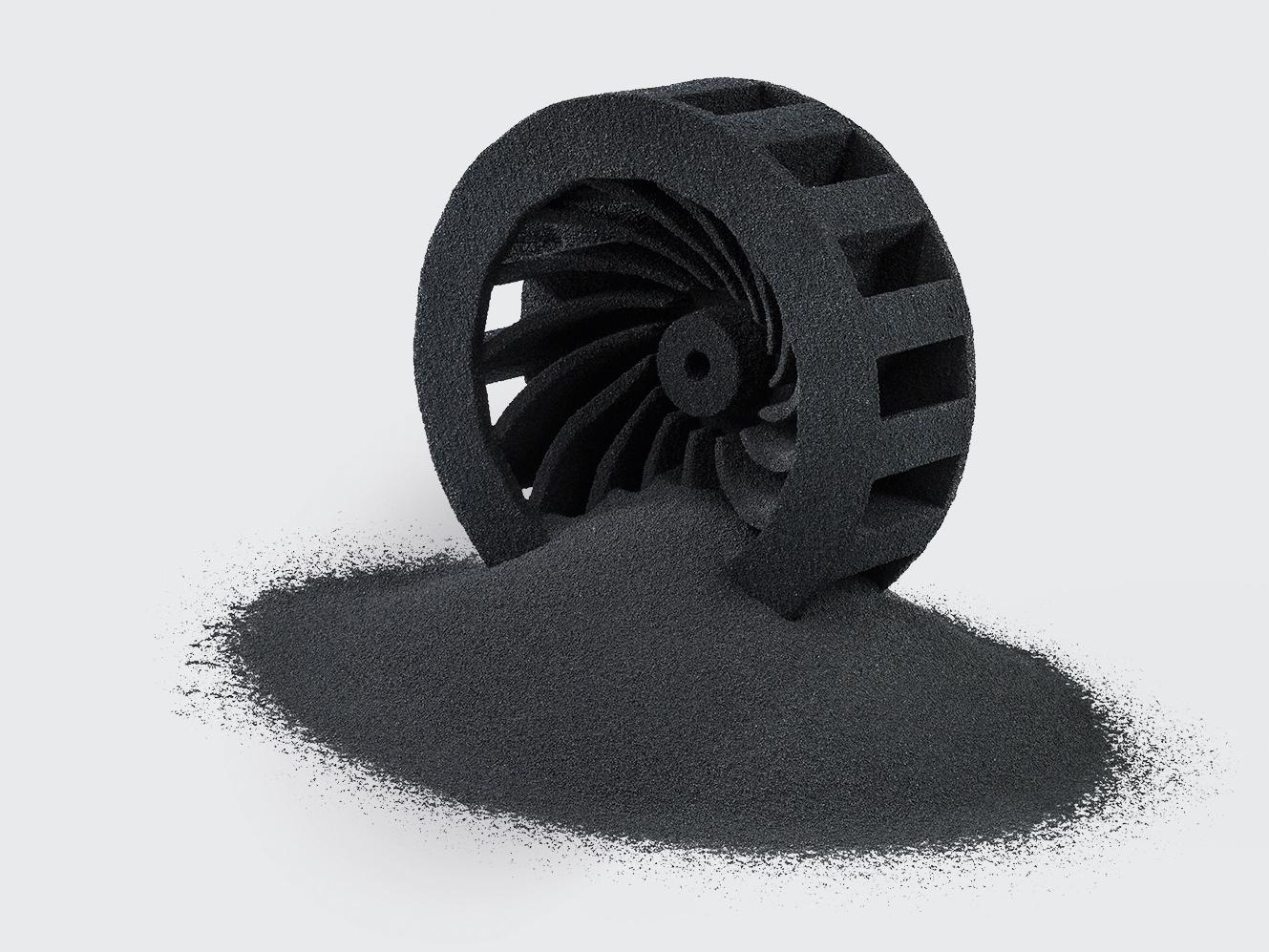 3D printed part made from CARBOPRINT
3D printed silicon carbide composites
Due to their high-performance properties, silicon carbide composite parts are attractive in numerous industries such as chemical processing, semiconductors, automotive and aerospace.
The properties of silicon carbide parts manufactured via 3D printing include high thermal conductivity, temperature stability in air, very high hardness, abrasion resistance and corrosion resistance.
As well as 3D printed carbon, silicon carbide parts can be post-processed to achieve customer tailored material properties. To achieve the desired properties, the 3D printed porous silicon carbide bodies are infiltrated with polymers (SICAPRINT® P) or liquid silicon (SICAPRINT® Si).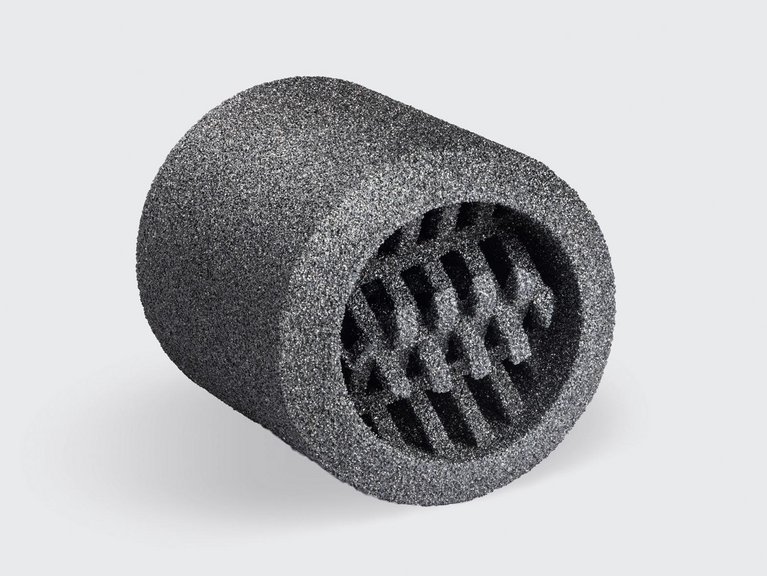 Static mixer infiltrated with polymer in SICAPRINT P
SICAPRINT® P
Components based on SICAPRINT® P are manufactured by infiltrating polymers into silicon carbide parts. These components are suitable for applications in abrasive and corrosive environments at temperatures up to 200°C.
Depending on the polymer used for the infiltration, SICAPRINT® P shows variable material properties.
As examples of available material properties, SICAPRINT® P100, SICAPRINT® P200 and SICAPRINT® P210 can be compared on Matmatch.
SICAPRINT® Si
SICAPRINT® Si components are made by post-processing 3D printed silicon carbide components with liquid silicon infiltration. After post-processing, these components are ideal for applications where high heat resistance, thermal conductivity and hardness is necessary. SICAPRINT® Si components are stable at temperatures up to 1400°C and provide greater mechanical strength at high temperatures than most metals.
Compare three variants of SICAPRINT® Si: SICAPRINT® Si10, SICAPRINT® Si100 and SICAPRINT® Si200.
The properties of SICAPRINT® P210 and SICAPRINT® Si100 are displayed in the table below.
| | | |
| --- | --- | --- |
| | SICAPRINT® P210 | SICAPRINT® Si100 |
| Density (g/cm3) | 2 | 2.9 |
| Flexural strength (MPa) | 120 | 150 |
| Elastic modulus (GPa) | 17 | 320 |
| Thermal conductivity (W/(m·K)) | 2.4 | 150 |
A 3D printed honeycomb structure of SICAPRINT® Si undergoing heat treatment at 1200°C in air.
Applications
The applications of additive manufactured CARBOPRINT® C components include casting cores, casting moulds and preforms.
CARBOPRINT® P and SICAPRINT® P can be used for pump parts, spray nozzles, chemical packings and internals, to name a few.
CARBOPRINT® Si and SICAPRINT® Si have found application in pump impellers and casings, burner nozzles, heat exchangers, ballistic protection, abrasive protection and electric heaters.